Broadcast News
14/05/2018
NEP Sweden's UHD Van Features Decentralized Signal Routing From Riedel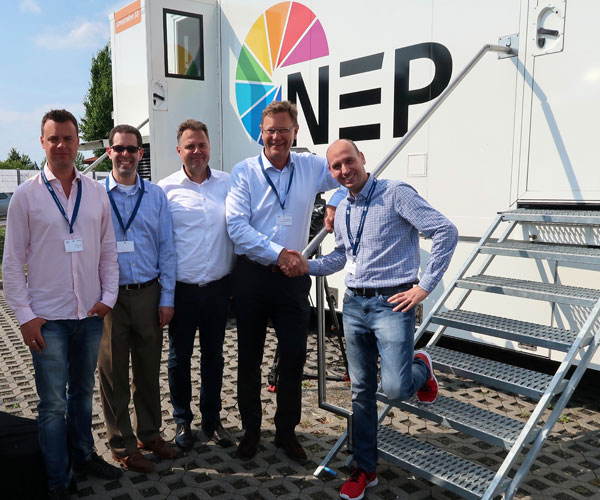 As part of the NEP Worldwide Network, a global provider of TV, media, and event production solutions, NEP Sweden offers technology and services for outside broadcast, studio productions, and host broadcasters. The just-completed winter games, the 2017 and 2016 broadcasts of the Eurovision Song Contest, and 2017 America's Cup yacht races are just a few examples of the high-profile sports and entertainment events that have signed on with NEP Sweden to provide mobile broadcast services.
The company is one of the largest OB providers in Europe, with a fleet of 120 HD vehicles and 25 UHD/4K vans. One of the latest of these, UHD 1, was commissioned last year to offer the state of the art in UHD/4K production capabilities, including Riedel Communications' MediorNet real-time signal transport, processing, and routing technology. On board UHD 1, the MediorNet system operates over a 10 Gbps optical fiber backbone to create a fully redundant and decentralized communications and signal routing matrix for coverage of a broad range of high-profile live productions.
UHD 1's signal transport network is anchored by eight MediorNet MetroN core routers, which provide high real-time signal routing capacity (with each router offering 32 10G and 32 4.25G ports) and non-blocking switching. Each MetroN router can transmit up to 6 uncompressed HD-SDI signals over a single 10G connection.
Riedel's MicroN high-density media distribution network devices are software-defined hardware and are primary used as I/O endpoints in UHD 1's decentralized MediorNet infrastructure. The NEP Sweden team has deployed 27 of these highly modular devices for use in an unlimited number of configurations, with an additional 12 MicroNs configured with Riedel's MediorNet MultiViewer App to support comprehensive monitoring. The MicroNs conveniently allow signal I/O to be placed exactly where needed, enabling NEP Sweden to reduce overall system complexity by leveraging the built-in signal processing functions in each frame.
Finally, NEP Sweden has deployed two MediorNet Compact Pro frames for use as mobile stage boxes. The Compact Pros offer the flexibility of a true real-time media network, including integrated signal processing, with the capacity to support bi-directional transport of 12 HD-SDI signal, dozens of MADI streams or GBit-Ethernet signals, and hundreds of audio channels or intercom ports. With the MediorNet Compact stage boxes, the NEP Sweden team has the flexibility to easily extend their signal network to anywhere on the production.
"We designed our new van to be a showcase for the latest in 4K and UHD broadcasting technologies, and Riedel's MediorNet is no exception. The highly scalable MediorNet signal transport and routing system gives us new dimensions of flexibility, redundancy, and reliability, paving the way for the van to support any type of 4K production," said Jens Envall, technical director for NEP Sweden. "We also appreciate the simplicity of the solution. With capabilities like the MediorNet MultiViewer App and other built-in signal processing, we're able to eliminate many external devices."
NEP Sweden is only the latest in a growing list of NEP divisions that have embraced Riedel's MediorNet for decentralized routing. With its track record of delivering first-class live broadcasts of all types and sizes, NEP Sweden offers a strong endorsement of MediorNet's power and versatility.
This article is also available in the May edition of Broadcast Film & Video.
www.riedel.net
Top Related Stories
Click here for the latest broadcast news stories.