Broadcast News
30/04/2014
Riedel Unveils WAN-Capable MediorNet Solution And 2.0 Update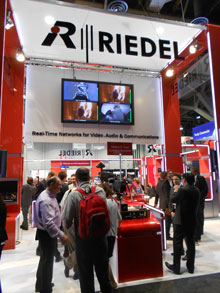 Riedel Communications has announced the release of the company's first wide area network (WAN)-focused solution: the acclaimed MediorNet real-time network with WAN capabilities. At this year's NAB Show, the company also announced a 2.0 upgrade of the MediorNet solution.
"The addition of our unique WAN transmission technology to the well-established MediorNet solution gives users an even greater degree of versatility in distributing live A/V content," said Christian Bockskopf, Head of Marketing at Riedel Communications. "We thereby are taking account of the development to transmit video and audio signals in a wide area network. Now we can connect remote MediorNet Systems in an easy and intelligent way."
The video streaming technology incorporated into the MediorNet solution enables users to achieve mobility in live production environments including studios, arenas and other live event facilities, and linked OB van setups.
The WAN capabilities integrated into the real-time media network also reduce the complexity of live broadcasting and assure independent signal distribution.
Riedel's MediorNet system combines signal transport, routing, signal processing and conversion into one integrated real-time network solution, now with WAN capabilities. Supporting forward error correction (FEC), retransmission management (RTM) and dynamic bit rate management (DBRM), the Code One Transport Protocol (COTP) used by MediorNet H.264 encoders and decoders assure that also the public Internet can be used for point-to-point transmission of professional audio and video.
Using Riedel Communications' MediorWorks software, users can not only configure the WAN interface, but also handle a WAN signal connection as a trunk link and split a system in various subnets.
Additional functions available with the WAN-capable MediorNet system are JPEG2000 encoding and decoding for SDI and DVI I/O, as well as H.264 encoding and decoding for SDI. Two variations of the H.264 encoder and one of the JPEG2000 encoder allow users to select the processing capabilities that best suit budgetary and operational requirements.
Riedel announced a MediorNet 2.0 update at this year's NAB Show in Las Vegas, enabling added benefits like full video router functionality, seamless interoperability with Studer consoles, EMBER+ implementation and extended integration of the ProBel protocol.
"MediorNet 2.0 gives MediorNet users a flexible, easy-to-operate alternative to conventional video routers," said Karsten Schragmann, product manager at Riedel Communications. "By incorporating tremendous routing capabilities right into the MediorNet frame, this firmware update enables users to lower their operations costs while reducing the volume and complexity of cabling required for audio and video signal transport."
The MediorNet 2.0 update includes robust video router functionality with switching delays of less than 40 milliseconds, as well as high-speed rerouting that allows as many as 1,000 connections to be rerouted in less than a second.
Drag-and-drop routing of multiple connections speeds configurations, and users now have the option to delete multiple selected connections at once. The firmware update also supports more than 65,000 ProBel crosspoints.
MediorNet 2.0 introduces Studer A-Link compatibility, which enables the MediorNet Modular frame to act as a decentralised audio router with a matrix size larger than 25,000² and fully redundant interfaces. At the same time, MediorNet fully supports EMBER+ for integration with other common control systems, such as VSM and KSC Commander.
Because the update permits access to all MediorNet parameters and allows users to edit I/O settings and control all routing functions, users retain control over configuration options. Additional features include a timecode display that can be configured to the user's preferred size and position, an LTC input, and sample rate conversion on both optical MADI ports of MediorNet Compact systems.
www.riedel.net
(IT/JP)
Top Related Stories
Click here for the latest broadcast news stories.