Broadcast News
14/05/2018
Omnitek At NAB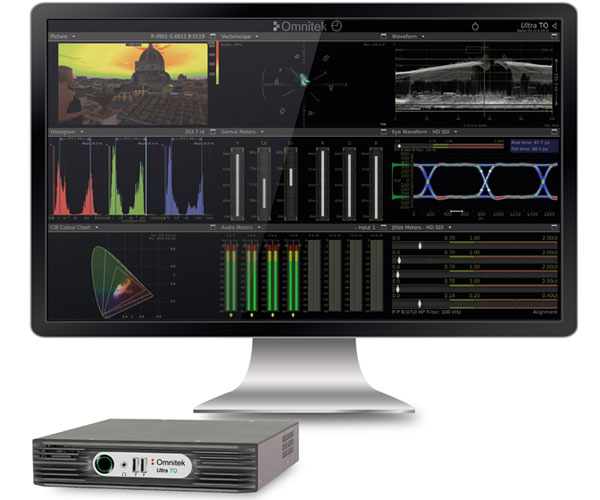 Although the numbers appeared to be lower than normal at NAB, this did not appear to have an impact on the number of broadcasters visiting the Omnitek stand who were interested in a range of current topics including 4K production, high dynamic range, wide colour gamut, and IP to mention a few.
The show numbers did not dampen our enthusiasm at the show, partly because Omnitek learnt the news that it was to receive two Queen's Awards in recognition of the innovation of its FPGA IP and for the export achievements of its Consultancy services and video Test & Measurement products. The Queen's Award for Enterprise: International Trade includes the significant contribution from Omnitek's Test & Measurement products which have been sold to manufacturers, major broadcasters and post production houses around the world.
Three years after its launch, there was still a lot of interest in the Ultra 4K Tool Box which is a good sign that SDI is not yet dead. For the show the Tool Box was running the latest production software release version (3.4) which includes support for HDR and allows the generation of 4K Test Patterns with selected HDR (PQ, HLG, etc) output profiles.
The Ultra 3.4 version includes functionality for AV delay measurement, propagation delay measurement, new video/audio status tiles and SDI output profile controls.
There was continued interest in the Ultra XR, which has become a 'weapon of choice' for many post houses and broadcasters grading and quality controlling HD and 4K programs in HDR and wide colour gamut.
For NAB, the Omnitek Ultra TQ gained the ability to analyse and decode Dolby E, Dolby D and Dolby D+ audio for monitoring and quality checking. This new functionality coupled with the Ultra TQ's SDI / 2110 / 2022-6 connectivity went down well with broadcasters who are looking for an 'all in one' solution for current needs with a 'foot in the door' for future requirements.
To allow the decoding of Dolby, AES/EBU input/output as well as analogue audio monitoring functionality, a new mezzanine board has been designed for the Ultra product range. This board provides the AES/EBU audio connectivity required to monitor the de-embed audio from the SDI/IP stream and decoded Dolby content. This new audio hardware will be available as an upgrade to existing customers.
This additional audio functionality has been implemented due to demand from broadcasters who need to be able to ensure the quality of all aspects of their content before broadcast, but also because the adoption of IP standards such as SMPTE 2110 means that it is essential to be able to check all of the elemental streams (video, audio and ancillary) are correct. With digital audio capture prevalent, being able to hear it anywhere within the production chain is a significant benefit, whether its AES/EBU or Dolby audio.
In these challenging times, broadcast and post production need to work with content produced in a wide range of different formats, colour spaces and dynamic ranges to accommodate a diversifying delivery route to consumers with high expectations of better picture quality and enhanced user experience.
For anyone buying equipment these days, the list of requirements is quite long and the decisions being made will affect not just short term, but long term production efficiencies. When buying Test & Measurement equipment, the challenge is to find the one that suits the immediate need, future needs and at a price that is within ever tighter budget constraints. And above all it needs to be fit for purpose, value for money and easy to use.
Ultra TQ's analyser instruments include picture, waveform monitor, vectorscope, gamut meters, full audio monitoring and loudness measurement, video timing, video / audio status monitoring, event logging and closed caption logging as standard. These can monitor either SDI or SMPTE 2110/2022-6 SFP inputs. This makes the Ultra TQ ideal for a hybrid SDI / IP environment.
The option structure has been designed to provide the basic functionality required for broadcast as standard with options to enable the more sophisticated functionality for more specialised analysis in different stages in the production workflow.
Omnitek operates a flexible upgrade process to accommodate changing industry needs and workflows and allow customers to migrate the functionality of their existing Ultra product to any other variant.
Author: Alan Wheable FISTC, MITOL – Communications Manager at Omnitek
This article is also available in the May edition of Broadcast Film & Video.
omnitek.tv
Top Related Stories
Click here for the latest broadcast news stories.