Broadcast News
11/05/2018
Introduction To Network Topologies For IP – Part 1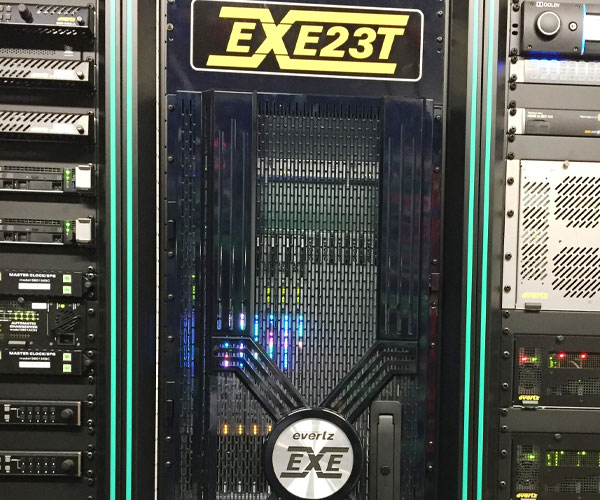 This two-part article describes the various topologies that are available for use in IP-based broadcast systems. It considers their advantages and disadvantages, especially with respect to uncompressed and lightly compressed IP video applications, which may demand very high bandwidth. The article is based on dB Broadcast's unique experience in designing and implementing IP solutions for broadcasting and its work on state of the art projects for clients including Bloomberg Television and BBC Wales.
Traditionally, high-bandwidth video applications have used large SDI routers, often as a pair to provide failover protection. Many of the early implementations of high-bandwidth IP video applications took a similar approach by using a "big switch", that is a large switch chassis with multiple line cards. Aside from the obvious similarity to the traditional SDI router approach, all switch paths are 1:1 and as such inherently "non-blocking". Blocking occurs in networks, when there are insufficient traffic paths available to make all the desired connections. It is obvious that in high-bandwidth video applications, blocking must be avoided at all costs. In addition to being non-blocking, other advantages of the big switch include minimal cabling and capital cost, as well as simple configuration. The major disadvantage of this approach is that the switch can only be scaled up to the maximum number of available ports in the switch chassis. As scalability is desirable, then we must consider what alternative network topologies are available.
For many years, data centre networks have used a three-tier tree architecture. More recently, two-tier "Clos" network leaf-spine architectures (named after one of the original researchers Charles Clos), have become increasingly popular for medium to large scale data centre infrastructures.
A three-tier tree network consists of access, aggregation and core layers with the aggregation and access elements being separated into different "pods" based on their physical location. The bottom of the tree is the access layer where the hosts are connected via access switches. The middle aggregation layer is normally redundantly connected to the access layer via a Layer 2 "spanning tree". This is designed to prevent loops from being formed when switches or bridges are interconnected via multiple paths. The aggregation layer also provides connectivity to the top of the tree, which is known as the core layer. The core layer provides routing services to other parts of the data centre, as well as to remote locations.
Three-tier tree networks are simple to implement, economical with respect to cabling and require little configuration. Another advantage is that VLANs can be extended within each pod, so that servers can move freely within the pod without the need to change IP address and default gateway configurations.
The three-tier tree network topology however has several disadvantages. All traffic takes a single "best path" until the point at which it becomes oversubscribed and packets are dropped. Oversubscription is caused by the spanning tree algorithm, which deems alternative paths undesirable and uses "blocking" to close paths that would cause loops. Clearly, packet loss is highly undesirable in video applications.
Additionally, host-to-host latency varies depending on the traffic path used. This is a concern in high bandwidth video applications, where latency should be as low and as predictable as possible. As the path and number of hops could be different in each direction, this network topology is inherently susceptible to asymmetry, where the latency in the forward direction is different to the latency in the reverse direction. Excessive asymmetry can become an issue where Precision Time Protocol (PTP) is being used, as clock accuracy is based on the average of the latency in the forward and reverse directions.
To summarise this first part of the article, many early implementations of high-bandwidth IP video networks used a simple big switch, but the inherent scalability issues of this approach make it unlikely to prevail in the long-term. Also, the limitations of the three-tier tree topology mean that another architecture must be considered, and this will be discussed in part 2 of this article.
This article is also available in the May edition of Broadcast Film & Video.
dbbroadcast.co.uk
Top Related Stories
Click here for the latest broadcast news stories.