Broadcast News
18/04/2018
Lawo Presents World's First Infinitely Expandable Multiviewer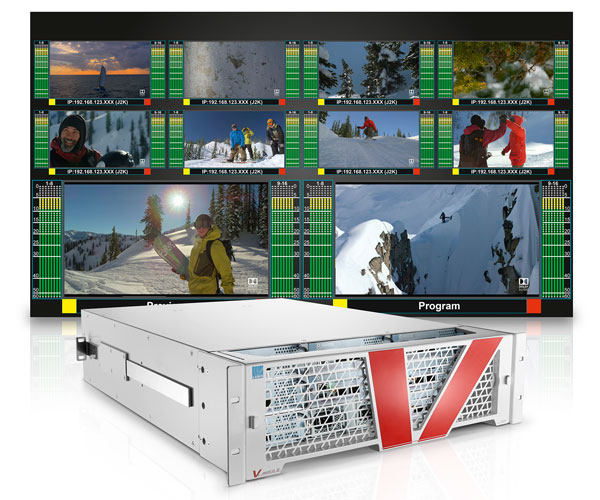 Lawo has introduced its new IP multiviewer vm_dmv64-4, the world's first infinitely expandable true IP multiviewer.
It was unveiled at the 2018 NAB Show, and adds to Lawo's existing vm_mv16-4 and vm_mv24-4 multiviewer lineup.
The new virtual module (VM) breaks the mold of conventional multiviewers, providing unlimited inputs and heads, as well as full support of IP and SDI sources in 4K/UHD, 3G, HD and SD. It supports embedded and discrete audio and works with pixel perfect mosaics with ultra-low latency. Intuitive drag&drop mosaic configuration is easily done with Lawo's' 'theWALL'.
Lawo's vm_dmv64-4 is a distributed multiviewer where multiple modules network together. These modules may be hosted in the same V__matrix frame, in different frames or even at different geographical locations – basically anywhere – joining forces as long as they are networked via IP. Every vm_dmv64-4 has an input stage capable of receiving up to 24 sources of any combination of 4K/3G/HD/SD which is limited only by the physical (up to 18 SDI inputs) or network (2x 40GbE) I/O. These sources are downscaled by the vm_dmv64-4 and returned to the network as IP (RFC 4175) encapsulated mipmaps.
In parallel to the input stage, every vm_dmv64-4 also features an output stage capable of creating up to four 3G mosaics (or two UHD mosaics) with up to 64 sources/PIPs each (128 each in UHD). The output stage compiles a mosaic from the appropriate mipmaps needed, automatically taking into account the size the user requests for the PIPs. The output stage can both use mipmaps that it has generated by its own input stage or by subscribing to other mipmaps from the network. As any vm_dmv64-4 can use any mipmaps from any other vm_dmv64-4 on the network it scales linearly with each vm_dmv64-4 that is added to the network which results in an "infinitely" expandable and distributed multiviewer.
Applying this solution also significantly reduces rackspace, weight and power consumption. In addition, Lawo's V__matrix platform is already renowned for its software-defined functionality where C100 blades can be changed at run-time by loading different virtual modules.
www.lawo.com
Top Related Stories
Click here for the latest broadcast news stories.