Broadcast News
17/04/2018
Sonnet Introduces The eGFX Breakaway™ Box 650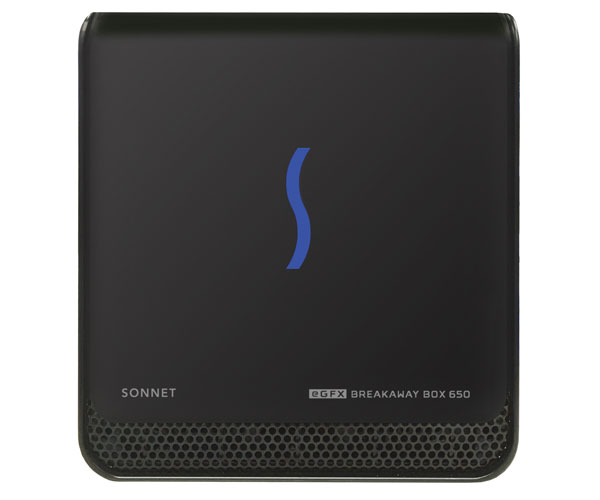 Sonnet Technologies has introduced the eGFX Breakaway™ Box 650, the new Thunderbolt™ 3 external graphics (eGPU) solution.
It is designed and qualified specifically for large, power-hungry video graphics processing unit (GPU) cards.
The AMD-approved Breakaway Box 650 is equipped with a 650-watt power supply, which provides ample power for GPU cards with high transient peak power requirements.
"With the introduction of AMD's Radeon Pro and RX Vega Series cards, we have experienced a high demand for an eGPU chassis capable of supporting the higher standards of these GPU cards," said Robert Farnsworth, CEO of Sonnet Technologies. "The eGFX Breakaway Box 650 meets the demand, enabling users to tap the compute power of even the AMD Radeon RX Vega 64 and Radeon Pro WX 9100 cards while still providing up to 87 watts of upstream Power Delivery to support popular notebook computers."
The eGFX Breakaway Box 650 provides a single slot for connecting any size Thunderbolt-compatible GPU card, and features enough room for many high-performance water-cooled cards — making it ideal for professionals and gamers who need to run bandwidth-intensive graphics applications on their eGFX-compatible notebook, all-in-one, or other small-form-factor computers.
The unit is equipped with a 40Gbps Thunderbolt 3 port that enables data transfers up to 2750 MB/s, and supports all Thunderbolt-compatible GPU cards — such as AMD Radeon R9, RX, RX Vega, and Pro WX models; and NVIDIA GeForce GTX 9 and 10 series, Titan X and Xp, V, and Quadro® models. In addition, the Breakaway Box 650 includes two eight-pin auxiliary power connectors and provides 87 watts of upstream power (Power Delivery), useful for powering and charging a connected notebook computer that supports Thunderbolt 3 charging.
The eGFX Breakaway Box 650 is available now from Sonnet Technologies.
www.sonnettech.com
Top Related Stories
Click here for the latest broadcast news stories.