Broadcast News
09/11/2017
Sonnet's eGFX Breakaway Box 550 Now Shipping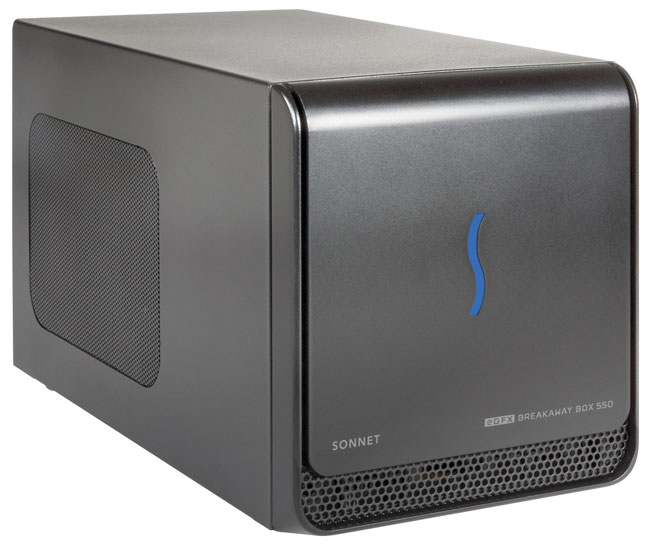 Sonnet Technologies is now shipping its eGFX Breakaway Box with 550-watt power supply; the latest solution in its all-new series of Thunderbolt 3 to PCI Express (PCIe) eGPU expansion chassis for professional graphics and gaming applications.
The eGFX Breakaway Box 550 provides a single slot for connecting any size Thunderbolt-compatible GPU card, and features enough room for high-performance water cooler cards, making it suitable for gamers and professionals who need to run bandwidth-intensive graphics applications on their eGFX-compatible notebook, all-in-one, or other small-form-factor computers. The unit is equipped with a single 40Gbps Thunderbolt 3 port that enables data transfers up to 2,750 MB/s, and supports Thunderbolt-compatible cards with popular GPU chipsets such as AMD Radeon and Radeon Pro; NVIDIA GeForce, TITAN XP, and Quadro cards.
The Breakaway Box 550 also includes two eight-pin auxiliary power connectors and provides 87 watts of upstream power (power delivery), useful for powering and charging a connected notebook computer.
www.sonnettech.com
Image: eGFX Breakaway Box 550 Thunderbolt 3 to eGPU PCIe card expansion system.
(JP)
Top Related Stories
Click here for the latest broadcast news stories.