Broadcast News
29/03/2018
ATG Danmon Reports Busy Start To 2018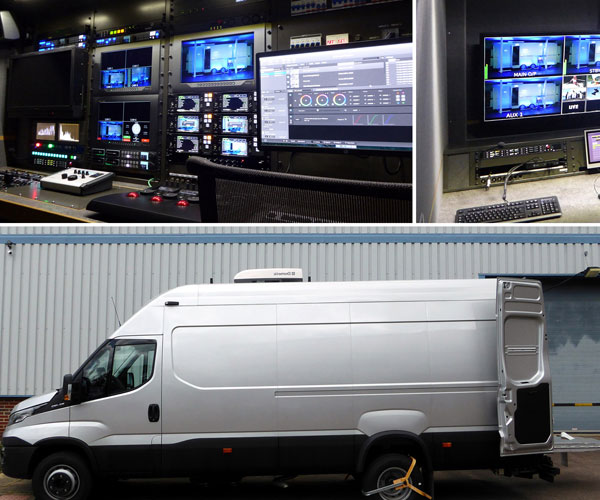 ATG Danmon has reported a busy start to 2018 with three completed system integration projects.
The projects include control room infrastructure for the Scottish regional studios of one of Britain's largest broadcasters, the delivery of a multi-camera 4K-UHD production vehicle, and the first of two audio production facilities for an international investment group.
Scottish regional broadcast control room
"The control room project centred on the modernisation and relocation of a presentation suite used to produce bulletin-style news programmes," said ATG Danmon project manager Howard Dixon. "Careful co-ordination was vital to ensure the daily broadcast schedule could continue as normal. This was achieved by installing and configuring all the required new equipment in a temporary control room which could be fully configured and used for staff training before going live. Once that was fully operational, we decommissioned and emptied the legacy control room before moving in the complete system. We achieved the switchover in little more than half a day, with complete success. It includes new Vizrt Mosart control and playout automation, a large Adder Link Infinity KVM system, a Custom Consoles multiscreen display wall and equipment such as Sony monitor screens and J.L. Cooper audio fader control. We also designed and integrated a large L-shaped control desk to fit the available space."
Multi-camera 4K-UHD production vehicle
"Designed and built as a motorised front unit and trailer with a combined length of 14.5 metres, the new multi-camera 4K-UHD vehicle includes a production suite, a sound control suite, a colour grading suite, plus an auxiliary suite which can be assigned to administration or post-production," commented Managing Director Russell Peirson-Hagger. "The vehicle is based at one of London's largest and highest profile recording studios where its first assignment was a large-scale orchestral music production in the highest possible video and audio quality.
"The brief was to provide a true state-of-the-art facility with all the resources needed for live IP transmission of stage music performances in full UHD plus ultra high quality video and audio post-production capabilities. We have integrated a Grass Valley SAM dual mix/effects UHD switcher and Ross UHD router as the core of the production suite. The production team can source live video from five Sony UHD HDR cameras for normal OB operation. These are compact enough to allow tripod-mounted or shoulder-mounted operation. Five portable recorders allow totally independent shooting to terabyte-capacity solid state memory. With writing speeds of up to 2.4 gigabits per second, these are seriously high quality."
"Digital content storage within the vehicle is to very high capacity Studio Network Solutions EVO servers with Ethernet and Fibre Channel interfaces. Picture monitoring in the production suite is via two 40 inch LCD displays with multiviewer feeds. Two separate screens mounted along the rear of the production suite desk display control-related GUIs with a third screen assigned as a multi-timezone clock. Ross Furio camera robotics have also been provided, allowing very stable on-air moving shots under full remote control. This system is designed for stage-front shooting, particularly of close-ups, without putting a camera operator within audience view. Top-down shots can be captured from a ceiling-mountable pan/tilt head."
"The sound control suite is equipped for full studio quality multichannel audio capture to a high specification Apple computer networked to the Studio Network Solutions servers. These can handle up to 32 audio channels, sourcing sound from existing studio microphones via an NTP AX32 analogue-to-digital and digital to analogue converter."
Audio interview suites
Two identical projects for a globally active investment company, the audio production suites are designed primarily for podcasting applications. "The key requirement was for radio interview desks, each allowing iso-track recording of up to four presenters for subsequent mixing and editing," said ATG Danmon Head of Systems Integration Jonathan Hughes. "The desks are a bespoke design with an internal wiring loom which allows easy connection to the studio production desk via a single multi-pin connection. The surface is acoustically treated to minimise noise. Each microphone is fitted with its own tally light and mute button. The desks are located in green-screen video presentation studios which we designed and integrated in 2016, so are also designed to look good on camera."
www.danmon.com
Top Related Stories
Click here for the latest broadcast news stories.