Broadcast News
28/03/2018
TNDV Provides Technical Services For Bounce Trumpet Awards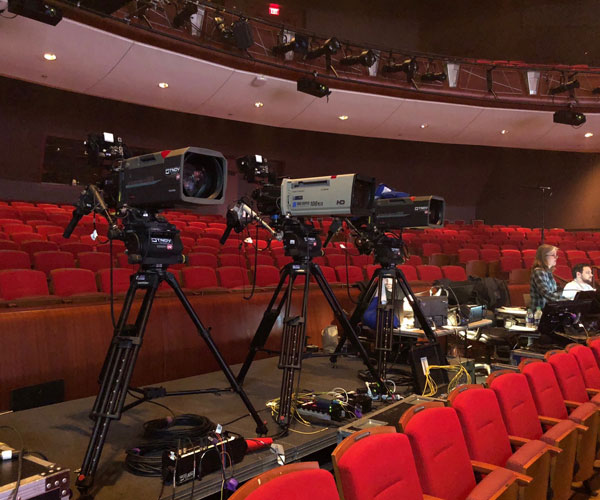 TNDV: Television has provided technical services supporting the 1080i recording HDTV recording of the 26th Annual Bounce Trumpet Awards.
The event, held at the Cobb Energy Center in Atlanta, honored influential, high-profile African Americans who have achieved greatness, and inspired it in others.
To support a live event of this magnitude, TNDV contributed its flagship 3G/4K mobile production unit, Exclamation, a 53-foot double-expando trailer specifically designed to handle the technical and creative demands of large-scale sports and entertainment broadcasts. A TV studio-on-wheels, Exclamation features a 15-seat production control room equipped with a massive Grass Valley Kayenne 5 M/E video switcher and large monitor wall.
To cover the show from every angle, TNDV's crew strategically deployed nine Hitachi SK-1200 cameras throughout the venue, including one centrally located on a Jimmy Jib, three configured as handhelds, and one on a Steadicam, allowing the operator to move freely about the stage.  
While the Trumpet Awards recognizes innovators, entrepreneurs, philanthropists, game changers, trailblazers, and rising stars in the African American community, the show also features a wide range of musical performances, making high-quality audio capture a must. Exclamation is one of the few trucks on the market to offer a four-seat audio mixing room with a 256-channel Studer Vista X audio console and Avid ProTools multitrack recording.  
"We're always striving to create an efficient and robust production environment to facilitate a successful show," said Andrew Humphries, TNDV's Senior Engineer in charge of the truck and technical crew. "Since we had worked at previous Trumpet Awards over the years, we were prepared to handle the biggest technical challenge at that venue—the long-distance fiber optic cable runs needed to transport all of the video and audio signals from inside the Cobb Center out to our truck."  
Rather than run the many video, audio and power cables needed to power the cameras and intercoms, the TNDV crew relied on nine MultiDyne SMPTE-HUT fiber transport systems. Each of these high-performance, universal camera transceivers multiplexed the many video and audio signals for transport using just two TAC-12 fiber optic cables. The HUT system consists of two boxes, one that the cameras plug into inside the venue and one that receives the signals on the truck. This significantly reduced the load-in and load-out time without compromising signal quality.  
According to Mr Humphries, the fiber optic infrastructure they built also allowed them route signals from stage boxes and media servers stationed front-of-house. These media servers, which were operated by the lighting crew, contained video packages profiling the nominees, awards categories, and other aspects of the show. When the lighting crew triggered playout of one of the video packages, the signal first went to Exclamation where it was frame-synchronized, input into the Kayenne switcher, color corrected, enhanced with branding elements, and then output to the LED screens above the stage in near real-time.  
At the end of the night, TNDV delivered hard drives containing iso-records of every camera, the program line cut, and the full Pro Tools audio session of the show to be used for postproduction. The Scripps/Bounce TV production team included Producer Michael Johnson, Director Milton Lage, and Jahmir Blanchard, the Vice President of Production and Original Programming.  
"I've worked with TNDV on several shows and I have a tremendous amount of trust in their expertise and experience," Mr Blanchard said. "It's extremely rare to find individuals, much less a company, that can consistently provide such high-level quality work regardless of the circumstances, and handle all of their productions with integrity and professionalism. Nic Dugger and his team have managed to gain a full understanding of how to service a client's technical needs, while working seamlessly with all departments to make sure the show itself goes off without a hitch."
www.tndv.com
Top Related Stories
Click here for the latest broadcast news stories.