Broadcast News
13/03/2018
VSN To Present New Version Of Media Asset Management Software At NAB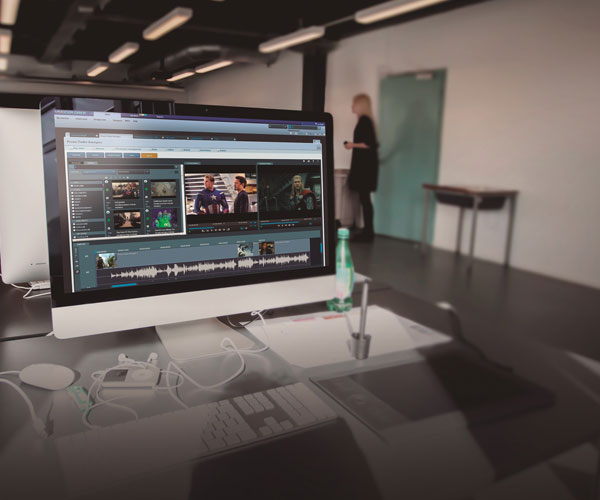 VSN is to launch a new version of its Media Asset Management (MAM) software at the 2018 NAB Show.
The new software, VSNExplorer MAM, incorporates the 100% web-based editing tool Wedit with brand new functionalities such as voiceover capability. Wedit's features are also available in the cloud.
Wedit is a tool developed in HTML5 that allows journalists and editors to edit videos and prepare them for broadcast from a single and unique interface, without having to switch to another non-linear editing system (NLE).
Advanced editing and voiceover capabilities are included in the Wedit tool for the first time. That means users are able to record voiceover tracks straight to the timeline, while previewing the sequence proxy video with frame accuracy, removing the need to switch to another NLE and enabling users to complete their videos solely from the Wedit interface. Even so, the user can optionally download the EDL with the recorded voiceover track to be exported to the NLE.
With this latest Wedit version, it is also possible to drag and drop any existing audio asset into the timeline and show the waveform pics of each audio track to improve the user experience. As a result, users will save time when editing their final news and videos. The possibility of including voiceover and audio tracks makes this tool much more practical for editors and journalists.
Douglas Wynn, VSN's sales director covering North America, said: "VSN Explorer MAM already offered all the tools necessary to manage the media of any company. It now comes turbo-charged with the Wedit tool including the new voiceover feature, with the added flexibility that is provided by cloud technology. For editors and journalists, this even more powerful solution enables them to create high-quality content and still meet even the tightest of deadlines, removing some of the stress in what is often a high-pressure environment."
As was also revealed at IBC 2017 in Amsterdam, VSNExplorer MAM now offers its features under a pay per use model (SaaS model) in the cloud for additional speed, flexibility and costs reduction. Users can manage and control all their media files anytime, anywhere and be more efficient when cataloguing and archiving their media files effectively and securely, managing the files, searching and retrieving content, and even when delivering these files to playout, quality check or any tool for content analytics' extraction. Moreover, VSNExplorer MAM also offers the possibility of scaling the system as much as needed to suit the company's needs. This in turn simplifies the overall process and reduces the time it takes to access, manage and create better and higher quality content.  
As well as the aforementioned Wedit tool and cloud capabilities, VSNExplorer includes many other functionalities such as a business intelligence layer (VSNExplorer BI) to transform any data source information of any existing broadcast system (including the MAM software) into meaningful information for business analytics. A specific module for streamlining and speeding-up processes in production environments (VSNExplorer PAM), and a another module for optimizing workflow automation (VSNExplorer BPM). Integration with third-party systems is very straightforward thanks to the open architecture, an adaptive player to automatically select the quality that best adapts to the available link speed, and even full quality control through the integration of the VSNQC quality check module.  
In addition to all these advances, VSN will also be showcasing its latest cloud-based Playout solution at NAB this year, following the implementation of four VSN systems in the cloud (VSNOneTV, VSNCreaTV, VSNExplorer and VSNWebTV). In this way the technology company allows broadcast and media companies to manage and broadcast all their content and files anywhere and anytime, just by having an Internet connection available. Users are provided with broader access to all types of daily tasks, from programming scheduling to media recovery and its automated delivery to the video servers until its broadcast through multiple screens — all in the cloud.
VSN will be at booth SL 8006 at NAB 2018 (07-12 April).
www.vsn-tv.com/en/
Top Related Stories
Click here for the latest broadcast news stories.