Broadcast News
24/09/2018
VSN Celebrates Great Visitor Numbers At IBC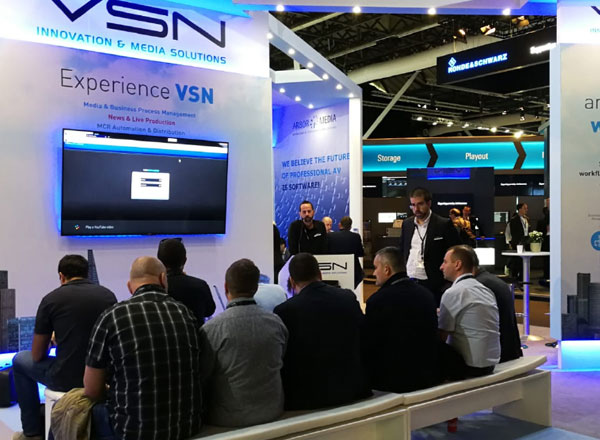 VSN is celebrating the success of IBC 2018, after the company welcomed a large number of visitors to its booth to showcase its latest innovations.
VSNExplorer MAM with AI, VSNCrea for traffic and scheduling and, VSNExplorer Plugin for NRCS gained the most attention with live demos during the show.
As shown in the demos by VSN Team at IBC 2018, VSNExplorer Plugin allows journalists to access VSNExplorer platform functionalities directly from their NRCS interface, including the web video editor Wedit, without switching windows throughout the entire news production process. Together with VSNExplorer MAM, VSN Media Asset Management solution, and its studio playout VSNLivecom, VSN presented a complete solution for news production that walks users through the entire process, giving them access to every necessary tool in a unique work environment.
Another highlight of the event was the traffic and scheduling solution for TV, radio and second screens, VSNCrea. The beta version of this solution, showcased for the first time at IBC, was welcomed with great enthusiasm by VSN booth visitors, who were able to see the new interface and functionalities, like the customisation of metadata and performance reports available in this new Cloud version, which will be available for VSN clients in 2019.
Apart from VSNExplorer Plugin for NRCS and VSNCrea, another star of the show was VSNExplorer MAM, and more specifically its integration with Artificial Intelligence-based tools for automatic metadata detection.
"VSNExplorer MAM is one of our greatest and most advanced solutions," said Toni Vilalta, VSN Product Manager and a speaker during the expert panel on AI during The IABM Future Trends Theatre, celebrated at IBC 2018. "This integration opens the door to new possibilities not only in cataloging and metadata detection areas but also in content creation and news production. These tools allow for a better and faster content retrieval, both from the archive and ingest systems, allowing journalists and editor to focus on content, areas to which they can provide more value, freeing them from other repetitive and time-consuming tasks that only make the process longer."
www.vsn-tv.com
Top Related Stories
Click here for the latest broadcast news stories.