Broadcast News
01/03/2018
Winners Of Television Journalism Awards 2018 Announced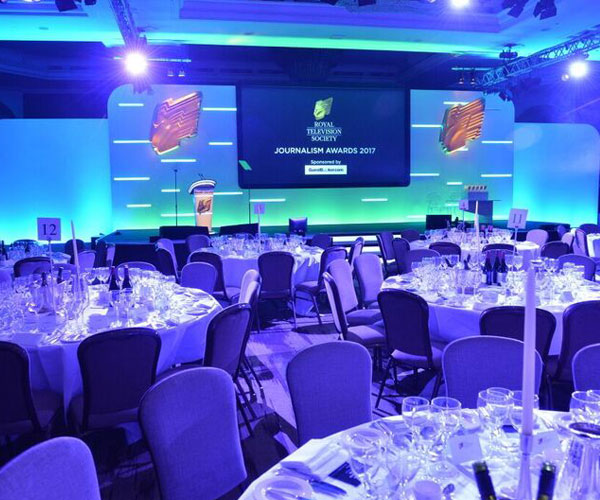 The winners of the RTS Television Journalism Awards 2018 have been revealed by the Royal Television Society (RTS) at an awards ceremony at the London Hilton, Park Lane.
The awards are held to recognise the creative and excellent journalism by organisations whose broadcasts are transmitted on a UK-based platform, or who create online video content from a UK production base.
The BBC came out on top on the night, taking home 11 awards, including the Daily News Programme of the Year for BBC News at Ten, and both News Coverage awards; the Home award for The Grenfell Tower Fire (Newsnight, BBC Two) and the International award for Yemen (BBC News for BBC One).
Sky News won the News Channel of the Year award, as well as the Breaking News award for its coverage of the Manchester Terror Attack.
CNN International was rewarded with Scoop of the Year for its story about the Libya Slave Market.
The Network Presenter of the Year award went to Victoria Derbyshire (Victoria Derbyshire Programme, BBC Two), while BBC News' Orla Guerin was awarded Television Journalist of the Year. The Specialist Journalist of the Year award was won by Channel 4 News' Michael Crick (ITN for Channel 4), and Nawal Al-Maghafi (BBC News for BBC One) took the Young Talent of the Year award.
Victoria Derbyshire Programme (BBC Two) also won Interview of the Year for its football abuse revelations. Two more BBC programmes were lauded in the Current Affairs categories; Panorama won the Current Affairs – Home award for Undercover: Britain's Immigration Secrets (BBC Panorama for BBC One), while Newsnight was recognised in the Current Affairs – International category for The Rohingya Crisis: The Tula Toli Massacre (Newsnight for BBC Two).  
This year's winner of the RTS's Outstanding Contribution award was Dorothy Byrne. Having started her career in local newspapers, she went on to run ITV's The Big Story. She has been at the helm of Channel 4's journalistic output for many years where her programmes have garnered many awards; she has also nurtured the careers of innumerable television journalists, especially women, and ensured that Channel 4 supports an MA in investigative journalism to bring people from different backgrounds into the field.
The Judges' Award, which recognises an outstanding contribution to the advancement of Television Journalism in the past year, was awarded to the 2017 UK Election Exit Polls led by Sir John Curtice.  
Other winners on the night included Battle for Mosul - Channel 4 News (Nine Finger Productions for Channel 4) which won The Independent Award, Nina Hossain (ITV News London ITN for ITV) who won Nations and Regions Presenter of the Year, and Antonio Denti (Reuters World News Service, Reuters Video News) who scooped Camera Operator of the Year.
For a full list of winners and nominees visit:
www.rts.org.uk/award/television-journalism-awards-2018-sponsored-guestbooker
Top Related Stories
Click here for the latest broadcast news stories.