Broadcast News
01/03/2018
BarnOne Platform Expands To Include Analog Audio Signal Transport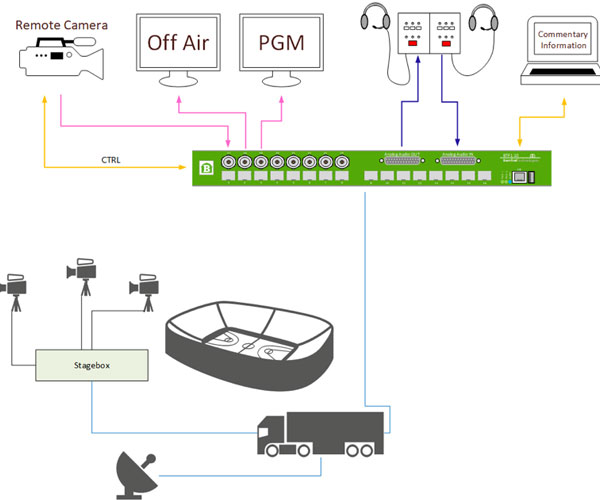 BarnOne BTF1-10AA has been launched by Barnfind Technologies as a response to the industry demand for a frame that transports analog audio signals.
The announcement came from CEO Wiggo Evensen who added that the new unit will be demonstrated at NAB 2018 at Barnfind's booth (SL 9630).
"We've already introduced the unit to several customers that requested it, and have received extremely positive feedback," said Mr Evensen. "They are very pleased with the features that BarnOne BTF1-10AA offers, and noted that it meets their needs, especially when targeting the sports market."
Benno Sonder, Barnfind System Design Manager, added: "BTF1-10AA has all the interfaces necessary for a sports commentary position, including: a commentary unit with analog line I/Os, several SDI and/or HDMI monitors, remote controlled Commentary Camera, several Ethernet connections for Graphics and Internet connectivity. All signals connect to the OB van via one single mode fiber, and a second redundant one, if required. In the OB van the MADI stream carrying the audio signals from the commentary unit connects directly to the audio console by BNC or optical, there is no additional DA conversion necessary."
The BTF1-10AA features an analog audio interface and incorporates 8x balanced analog line level inputs and outputs. The frame is equipped with high-end AD/DA converters which convert the analog audio to MADI (AES10), enabling audio signals to be transported alongside other Barnfind frames.
BarnOne's signal neutral crosspoint matrix, together with the SFP and BNC interfaces, converts MADI from electrical to optical and from single mode to multimode at the same time, and vice versa. It can also distribute one MADI source to several destinations simultaneously. The new BTF1-10AA frame houses an audio board with a 264x264 channel audio matrix featuring 4 bi-directional MADI interfaces that connect to the main matrix of the BarnOne frame, and 8 balanced analog line level inputs and outputs. 
Audio routing on a per channel base for all 4 MADI streams and the 8 analog ports is offered, making the making the card a powerful single channel MADI-Router with analog interfaces. In conjunction with the main matrix it can be used for MADI electrical-optical conversion or distribution. Alternatively, it can simply connect analog audio equipment directly to the MADI interfaces of an audio console or core. The interface to the console can be optical single mode or multimode fiber or electrical by coax cable (BNC).
The BTF1-10AA also serves as a powerful MADI-Router for 4 MADI streams with interchangeable optical/electrical interfaces that houses all the functionalities of a BarnOne frame.
www.barnfind.no
Top Related Stories
Click here for the latest broadcast news stories.