Broadcast News
21/02/2018
Strong Demand For Custom Consoles' Technical Furniture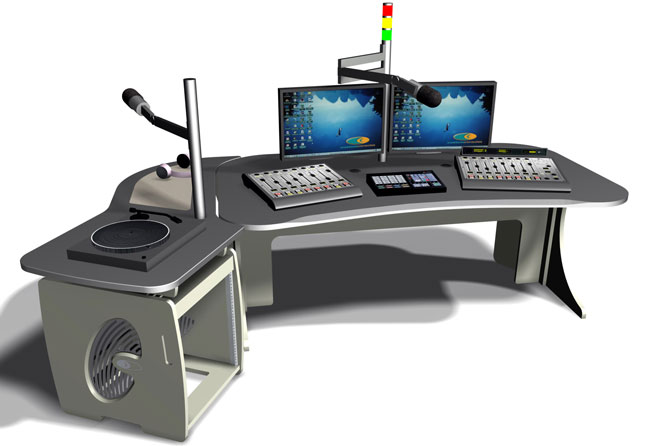 Custom Consoles has reported continued high demand for its technical furniture across the broadcast and wider engineering control markets.
The past year has included major projects for RTL City in Luxembourg, RT's new production studios in Paris, EVS in Liège, TV3 in Dublin, Netherlands-based virtual reality studio Miraga3D and the London studios of satellite broadcaster Al Sharqiya. Custom Consoles also marked its 21st anniversary year with the introduction of the EditOne-Radio desk.
Gary Fuller, Sales Manager, Custom Consoles, said: "We are seeing growing investment right across the broadcast media business as it responds to the opportunities created by technical advances such as IP-based interfacing, 4K ultra-high definition, high dynamic range and IPTV streaming. Demand for technical furniture in the broadcast and independent studio sectors remains very strong across Europe, Asia and Australasia.
"By far our largest project in recent months was for video display walls and very large number of studio desks at the new RTL City building. This was a greenfield-site development with technical facilities on three floors. We designed, manufactured and installed nearly 50 desks, five large MediaWall monitor mounting frames and about 20 standalone MediaPosts. Our systems integration partner in the project, Broadcasting Centre Europe, made a very careful study of the available furniture products before choosing Module-R and EditOne desks. Samples were sent for evaluation and we also provided constructive ideas based on the high level of design flexibility made possible by combining elements within the Module-R product range.
"We also completed a large-scale studio furniture project for global television news network RT. Located in Paris, this new facility was equipped with two master control rooms, engineering and audio control, audio post-production, two dubbing suites, an Avid ProTools suite, five edit suites, and a graphics suite. Completed in partnership with Megahertz, this was a mix of Module-R and EditDesks plus MediaWalls and MediaPosts.
"In the wider engineering control sector, we provided desks from our SteelBase-Lite series for a CERN control room assigned to heavy magnet testing. This was our second major order from CERN following the selection of SteelBase and Steelbase-Lite for the LHCb control room and cryogenics control room in 2016."
"At IBC 2017 we introduced the EditOne-Radio desk for use in radio interview suites, presentation studios and voiceover booths," added Neil Reed, Managing Director, Custom Consoles. "EditOne-Radio can be configured to match a wide range of audio production environments including live radio broadcasting. Developed from our established EditOne edit suite desk, it shares the same modern styling and goes beyond traditional studio furniture construction by using sculpted MDF support panels rather than metal legs. Studio guest work surfaces can be attached to the left or right side of the EditOne-Radio desk, or on both sides, bridging across to an optional pedestal accommodating up to 11 rack units of equipment."
Custom Consoles is now preparing for the two-day SCTX show at the London Olympia, 6 – 7 March, where the company's full range of control room desks and video monitor mounting systems will be promoted on stand D89.
Image: The recently introduced Custom Consoles EditOne-Radio desk.
www.customconsoles.co.uk
Top Related Stories
Click here for the latest broadcast news stories.