Broadcast News
16/07/2014
Riedel Selected For Euro Elections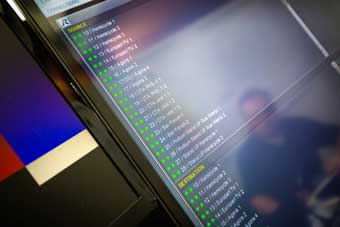 Riedel Communications' MediorNet real-time media network and Artist digital matrix intercom system were selected by the European Parliament to facilitate the signal transport requirements of the 2014 European Parliament elections in Brussels.
"For this 'mother of all elections,' we needed a dependable and very versatile network to support all broadcast and communications requirements," said Michel Melotte, technical video coordinator for DB Video, which provided the Riedel system for the elections as well as all broadcast sets and audiovisual facilities.
"We have used Riedel equipment on big events like Tomorrowland TV and were familiar with its power and flexibility, and we knew that we could deploy it to create a decentralised matrix with signals available throughout the whole network. Thus, despite the fluid, fast-paced nature of elections coverage, we ultimately were able to accept any signal, process it as needed, and deliver a quality output to any point on the network."
The system included 40 MediorNet frames connected over redundant fiber, two Artist 64 systems, the Riedel RockNet digital audio network, and a number of Riedel panels already in use on site. Systems were connected in a ring topology over a fiber network installed by DB Video in with Amubel, which then connected to the in-house fiber network.
The Riedel network enabled DB Video to interconnect seven different broadcast sets with up to 10 cameras each. An additional 40 SNG and over 60 live stand-up positions were set up throughout, and adjacent to, the parliament buildings. Because DB Video had created a plan to address both routing and processing, including up/downconversion, embedding/de-embedding of audio, and synchronisation, Riedel was able to preprogram and test the whole system in advance. Technical support from Riedel was on-site throughout the event.
"Riedel equipment excels in the most challenging of environments, including live coverage and communications support during high-profile elections," said Thomas Riedel, CEO of Riedel Communications. "The Riedel Benelux team worked closely with DB Video and our counterparts within the European Parliament to make sure that the installed fiber network could support a high volume of signals while maintaining high video and audio quality, as well as flexibility in managing a continually changing array of sources and outputs."
www.riedel.net
(IT/JP)
Top Related Stories
Click here for the latest broadcast news stories.