Broadcast News
24/01/2018
On Location With: Panamic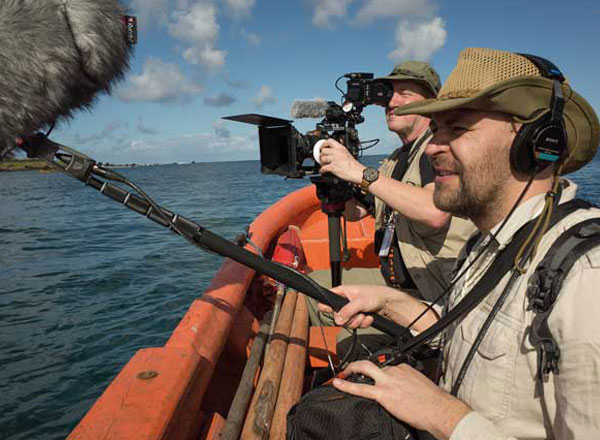 Established in 1972 by professional Sound Recordist Colin Charles, Panamic has long been regarded as the industry's leading Boom Pole brand.
Drawing from his award-winning experience, Colin knew exactly what was required on-set and designed Panamic Boom's to be lightweight, durable and accurate. The first Panamic poles were aluminium before moving to the current carbon fibre design. The carbon tube is manufactured in the North East of England from a composite weave, carefully chosen to control bend and rebound. Eleven poles make up the Panamic range, which offers booms in Mini, Midi and Maxi formats, ranging 0.48mtrs to 5mtrs.
Canford acquired the Panamic brand in 2007, and moved production to our Portland (Dorset) manufacturing facility along with the original tooling, where Panamic booms are still hand-crafted, using the same materials, and the same manufacturing techniques. We often see, or rather, we hear the superb audio recorded for TV drama series and film productions by sound professionals who use Panamic Boom Poles. We might hear anecdotal stories about interesting projects set in extreme production locations and might occasionally see on-set photographs, like the popular "Panamic Selfie" taken on a glacier somewhere in Austria. We're always interested to know what Panamic Sound Recordists and Boom Operators are working on, and appreciate your photographs via social media.
Canford Marketing Manager, Stephen Gallagher recently followed the journey of Sound Recordist Michal Deliopulos as he travels the world with the production of "Civilisation Seven Rules". Michal Deliopulos explains: "I'm a sound recordist and sound designer, predominantly working on feature films, TV series and documentary movies for cinema. I'm currently working on a documentary called Civilisation Seven Rules.
"We're travelling the world to explore different kinds of civilisations, old tribes and their specific approaches to life. So far we have been to destinations like Chile, Easter Island, Ecuador (Amazonia – old Indian tribes), Sudan, Uzbekistan. The production will also take us to Egypt, Russia, New York, Utah, Botswana, Nambia, Papua New Guinea, Australia and Alaska.
"These demanding locations are incredibly tough for filming and so the correct equipment is essential. For instance, in Amazonia, high humidity stopped two of our four cameras from working! I'd been thinking about the conditions we might experience, and chose my sound equipment very carefully. I use a Sound Devices 688 + Sl 6 with Lectrosonics receivers and always carry lots of batteries in order to work for 2–3 days without charging. Also, a little heavier but reliable, V-mounted lithium battery, which can provide 18 Amh of power. For my boom microphones I have a Sennheiser MKH 60 and MKH 30, and use a modular Rycote kit in order to record everything in Stereo MS.
"Because my windshield kit and microphones are quite heavy I have to use an accurate boom pole to handle it and control bend. As such, I use Panamic. I have been using them for feature films for years. They can be a little heavier, but this weight is worth it, for example to avoid handling noise with their unique Adjustable End Stops and Silent Bushes.
"They are extremely well made and can withstand rough conditions – like big humidity, unpleasant sand and heavy blimp. To be honest I love them, Panamic Boom Poles never let me down. Their locking rings are definitely the best on market nowadays. Panamic booms can handle the unavoidable rough treatment of documentary filming. They are like army tools. You can feel it when you hold them in your hand. I am looking forward to working with them every day."
panamic.net
This article also features in the January edition of Broadcast Film & Video.
Top Related Stories
Click here for the latest broadcast news stories.