Broadcast News
05/07/2018
A Life Of Sound With Panamic - Jo Andrews AMPS MIPS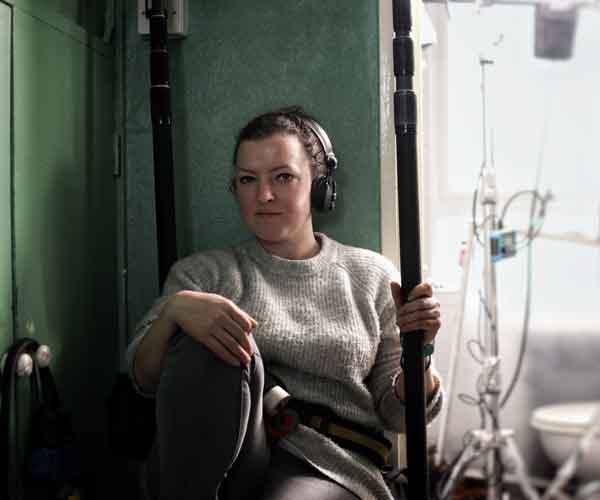 Having recently completed work on the BBC's contemporary thriller Informer, career Boom Operator Jo Andrews takes time out to talk to Canford Marketing Manager, Stephen Gallagher about life on-set and explains why Panamic boom poles are trusted by industry professionals.
At this point in my career, I am teetering on the cusp between 1st AS (boom operator) and 2nd AS (sound assistant). This means that I tend to work as an assistant on bigger projects like TV dramas and big budget features, and boom operator on smaller projects like lower budget features, commercials and dailies. My most recent jobs as assistant were HBO TV series Succession and BBC TV series Informer, both yet to air. My most recent jobs as boom operator were feature film Beast, pickups on Johnny English 3 and additional/alternate boom operator on BBC TV series Detectorists.
My career path has been somewhat unconventional in that I took 5 years out from the industry in 2010-15, meaning that I had to go back in at ground level in 2015, despite having a good deal of experience. I sometimes joke that I'm the world's longest serving sound assistant.

How did you get into the business?

In my mid-twenties, I was working in the exciting world of higher education funding administration. After a couple of years I realised I had better get out before my soul atrophied, and I decided that sound for film and tv was the life for me, based solely on the fact that I was a huge film nerd with a background in music - and therefore analytical listening (or so I reasoned). I read some sound books, and took a short course in sound at City of Westminster College - which was entirely useless in preparing me for boom operating, since it was just reel-to-reel tape editing, which I have never been required to do since. However, it was enough to encourage me to apply for a place on the Diploma in Sound Recording for Film and TV at the National Film and Television School in 2004. Here, I was fortunate that the course was only in its second year, and presumably much less popular than it is now, since I was offered a place with almost nothing in the way of experience! Luckily I found that I hugely enjoyed being part of a film crew, and boom operating in particular.
I've also recently completed the AMPS cable clinic for audio cable making and repair. I'm a full member of AMPS and IPS, and a member of BECTU (which means I get to call myself Joanna Andrews AMPS MIPS if I'm feeling pretentious). 
Looking back, do you have a favourite project?

Perhaps my most favourite job was Ashes to Ashes. This is partly because of the sheer length of time I spent working on it - I was one of very few crew members to do all 3 series, and 20 weeks a year for 3 successive years is a very long time in the industry. Then, I was part of a great team: it was my first job working with sound mixer John Hughes, who I would go on to work with many times, and my second with boom operator Tim Partridge, who I consider to be my primary mentor and teacher in the industry.
It was very technically challenging for boom operating, which was largely down to the set design in the primary set of the police station. The ceiling was a very striking checkerboard design in which every other panel was a light. This naturally led to a lot of wide shots featuring the ceiling, making it hard to get a boom over the actors in the conventional manner. When boom operating, Tim and I would often find ourselves pushed back into corners behind camera on awkwardly positioned poles without much room for manoeuvre.
We've seen you booming from the edge of an inflatable dinghy. Can you explain that?

The Mini Countryman commercial was filmed in 2016. The challenge there was that we were filming someone swimming, and I was booming from a boat, with no control over the distance between the two, and little ability to adjust my position. I had to set my mic position at a guess as to where Rick [Edwards] would be delivering his line relative to the boat, and I was further restricted by having only a midi, not a maxi pole. This was just long enough to reach the length of the boat (hence why I am sitting on the edge in the photo), and I had to compensate for distance by angling the pole up and down to keep the actor on mic, rather than backwards and forwards as I usually would.
Equipment reliability is paramount in broadcast. Where does Panamic fit into this?

Unlike many who go into film and TV sound, my intention is not to ultimately be a production sound mixer, but to stay a boom operator. Booming is where my passion and interest lies. I find every shot, every scene, to be a new and fascinating challenge to solve as to how to get the best and cleanest dialogue within the restrictions of lenses, lighting, etc. As a career boom op, I want a pole that will last me for my entire career, and I know without a doubt that I can trust Panamic booms to be extremely durable and reliable. I know many sound mixers who have had their Panamic for decades. They are in my opinion absolutely the highest quality, the best for reducing handling noise, and, properly maintained via regular cleaning, greasing, and adjusting the adjustable end stops, I have no doubt that I can rely on my Panamic to last me a lifetime of boom operating.
Would you recommend Panamic to colleagues and industry newcomers?

I trained as a boom operator on Panamic poles at the National Film and Television School. All the kit that is used on student productions there (at least in 2004/05) was formerly in use on professional industry productions. Panamic booms were held up to us as the boom pole to choose. It is a big investment, but so is all professional level audio equipment. I would not hesitate to recommend Panamic as a top choice for anyone looking to purchase a pole. You simply can't go wrong with them.
This article is also available in the July edition of Broadcast Film & Video. Available here.
Top Related Stories
Click here for the latest broadcast news stories.