Production News
23/01/2018
Aardman Creates Exclusive Ad Campaign For Channel 4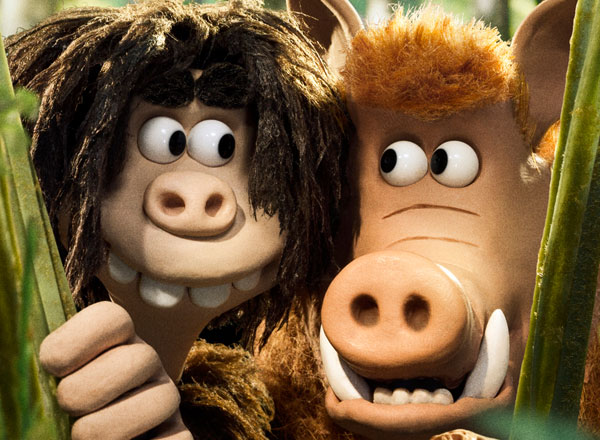 Channel 4 has partnered with Aardman and STUDIOCANAL to celebrate the UK cinema release of Academy Award® Winner Nick Park's new feature film Early Man with a bespoke animated campaign starring the film's Stone Age characters.
Ahead of the film's release on January 26th Channel 4 will broadcast the official Early Man trailer, a unique branded introduction before launching a series of 10 second bespoke ads depicting a claymation Stone Age take on the programme genre they appear around.
The contextual ads from the Wallace and Gromit creators include Aardman's guide to Food, Dating, Home Improvement and Entertainment in the Stone Age, the period in which the film is set, and will run across Channel 4's peak time schedule throughout the week.
This represents the first time Aardman has created a bespoke campaign with Channel 4 and the creative idea was developed through 4Sales creative approach PL4Y alongside Target Media.
Angus Mitchell, Agency Principal, Channel 4 said: "STUDIOCANAL's aim was to launch Early Man in a unique and special way to Channel 4 viewers. Aardman's highly creative and entertaining campaign, developed through 4Sales' creative approach PL4Y in collaboration with STUDIOCANAL and Target Media, will achieve just that – viewers will love it!"
Stuart Henderson, Head of UK Marketing, STUDIOCANAL said: "One of the great things about working with the incredible team at Aardman is that we have the opportunity to work closely with them to create new and bespoke animation for each campaign. With this in mind, we were able to work with Channel 4 on something completely unique as part of our campaign, introducing their audience to the world of Early Man by taking some of their most popular genres – and indeed their iconic ident – back to the Stone Age."
Head of Aardman Rights and Brand Development Sean Clarke said: "We loved the idea of the Early Man tribe stepping out of their world to give their take on these key Channel 4 programming themes. We are hopeful audiences will engage with our characters in anticipation of seeing the film out in cinemas this Friday 26 January."
Luke Knowler, Junior TV Account Manager, Target Media said: "Target Media are thrilled to have been involved with this project. The partnership with Channel 4 is the perfect way to engage the right audiences, and showcase the brilliant new characters that we will meet in Early Man!"
aardman.com
Top Related Stories
Click here for the latest broadcast news stories.