Broadcast News
01/12/2017
Strong Demand For Hiltron's HCS-4 Universal Satcom Controller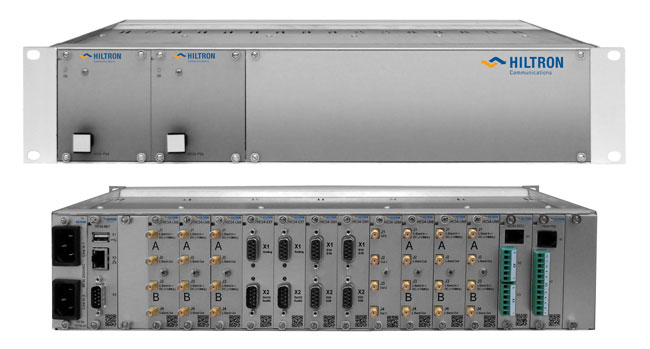 Hiltron Communications has reported a strong demand for its latest-generation HCS-4 satellite communications controller.
Since its introduction in September 2015, more than 70 units of the HCS-4 have been sold for antenna control applications; furthermore, since July 2017, an additional 10 customised systems incorporating the HCS-4 have been delivered.
Designed and produced by Hiltron, the HCS-4 was developed from its HCS3 predecessor. Maintaining the reliability and functionality of the HCS-3, the HCS-4 forms the central control element for a range of satcom applications, including easy switchover between devices such as downconverters, high power amplifiers, waveguides, MPEG digital video broadcast encoders and integrated receiver/decoders. The HCS-4 can also be used to control and monitor optical-fibre transceivers and antenna heaters. Other features include an N-1 redundancy switch and BUC/HPA controller, LNB supply, 2-1 LNB redundancy switch controller, a fully redundant low-noise 10 MHz reference generator, GPS synchronisation and automatic switchover.
The HCS-4 is available as a 2U high 19-inch rack mount unit with main and backup power supplies plus 13 slots for active modules. Also available are two chassis mountable frames accommodating up to 6 or up to 14 active modules respectively. All three versions can be powered from 24 volts DC and are operated via an intuitive HTML-based graphic interface. Modules are hot-pluggable to allow easy exchange. Any new or replaced module is automatically sensed and its address registered.
All units have SNMP remote control, hot-swappable dual redundant power supply and an internal data bus.
When configured as an antenna controller, the HCS-4 accommodates a freely selectable combination of axis controller cards for SSI-encoders, resolvers or potentiometer-angle readers as well as an optional integrated antenna de-icing controller card.
Currently, the range of modules available for standard and customised solutions includes:
• HCS4-10M 10 MHz reference source. This allows signal distribution to a switchable internal bus and three external outputs individually switchable between off/0/9 dB. It has a very low noise and highly stable internal VCXO plus an internal GPS receiver and can be synchronised with GPS or station clock.
• HCS4-DBT Dual Base T for LNBs and BUCs with variable supply voltage for LNB/BUC, individually switchable 10 MHz insertion (0/9 dBm), RF level detection.
• L-Band switch units (HCS4-SW), a transfer switch version (HCS4-LST) and a 2:1 redundant-switch version (HCS4-L21).
• HCS4-EXT controller module for equipment monitoring and control.
• De-icing controller with two main heater circuits up to 20 A each and an independent feed heater circuit (24 or 230 V) plus current, voltage and temperature monitoring.
Also available are external modules that integrate with HCS-4, including HCS4-PD2 compact dual channel power detector, up to 18 GHz; HACUX-ANE wind speed sensor; and HSACUX-DIM2 ultra-compact combination of GPS receiver, flux gate compass and dual-plane high-precision inclinometer (58 x 64 x 36 mm), fully weatherproof.
Image: Front and rear of the 2U high 19 inch rack-mounting Hiltron HCS-4 satellite communications controller.
www.hiltron.de
(JP/LM)
Top Related Stories
Click here for the latest broadcast news stories.