Broadcast News
30/11/2017
Green Hippo Completes Arena Production Project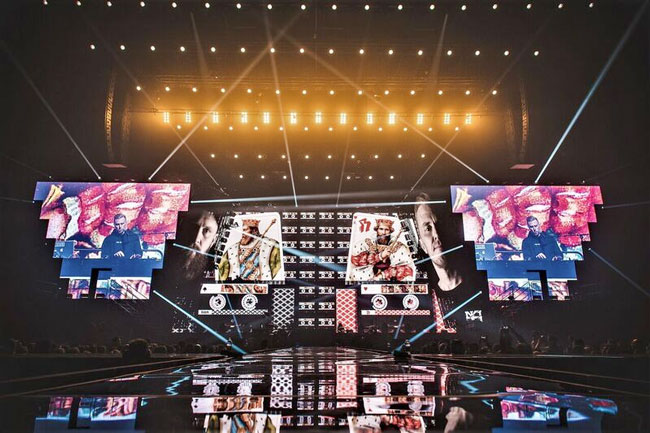 Green Hippo has supplied its Hippotizer Media Servers to MOBB Helsinki to help deliver a large domestic arena production in Finland.
Profeetat is the project of Cheek and Elastinen, Finland's two biggest hip-hop artists. Formed in 2016, this year the duo sold out three arena shows in its homeland; the first at the Turku's Gatorade Centre and then two nights at Helsinki's Hartwall Arena. Profeetat's shows turned out to be Finland's biggest domestic indoor arena production, and one to be designed by MOBB Helsinki, led by the company's Ari Levelä.
The gear and personnel required to run the nights increased, and the lighting tech armoury included two Hippotizer Boreal Media Servers and one Hippotizer Karst Media Server to run the main show, plus a further two Boreals acting as back-ups. There was also a brace of GMA2 lights, a pair of Kinect cameras, seven live cameras, and a video presentation.
Continuing to add to the numbers, MOBB Helsinki surrounded its Green Hippo line-up with 350 lighting fixtures, and a world-class PA system. There was also 13 band members, 75 crew members, 16 riggers, 34 local stage hands per show, and 13 trucks for transport duties.
With the hardware, software and personnel in place, crucial to the ultimate success of the operation was the Hippotizer's ability to integrate with Notch, the real-time visual creation tool that keeps up with the user's ideas. MOBB used Notch to boost, and add effects to, the live image feed. The team combined this feed with pre-rendered and pre-shot video content created in its studio, and used Kinect cameras to clone real dancers to screens.
www.green-hippo.com
(JP/LM)
Top Related Stories
Click here for the latest broadcast news stories.