Broadcast News
07/03/2018
Hippotizer Montane+ Used For Dutch Arena Concerts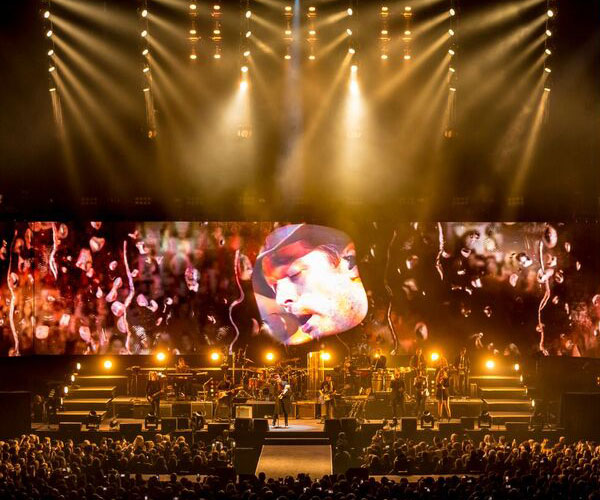 Green Hippo has revealed that its media server Hippotizer Montane+ was used to produce three sold-out concert dates for Dutch singer Waylon.
Dutch creative outfit Tenfeet was tasked with providing pre-programme studio facilities for the shows as well as operating media servers, and decided on using the Hippotizer server less than two weeks before rehearsals.
"Only two weeks before, we heard about Green Hippo's newest Media Server which was the Montane+, optimised for Notch software," explained Ton Swaak of Tenfeet. "We were familiar with the software and Green Hippo has always been a key part of our rental stock. Even though we had never seen Montane+ 'live', we knew that we could rely on the quality of this product, so we placed an order with Ampco Flashlight Sales for Green Hippo's first batch of Montane+ models."
Having taken delivery of the world's first Montane+ units, Tenfeet put the finishing touches to the show, which featured 20% pre-rendered content, with the remaining 80% a live feed. With the big LED screen stretching the width of the stage, Tenfeet placed six HD dome cameras in the set, a pair of manned cameras front-of-house, plus handhelds within the audience and onstage. A separate user controlled the dome cameras with the Tenfeet operator performing the actual switching.
"There was close and intensive communication between the operators, as well as with the ascender operator from Faber audiovisuals," said Mr Swaak. "Ultimately, the Montane+ controlled all camera signals via SDI inputs, and ran Notch along with the pre-rendered content. Having bitten the bullet and ordered untested machines, the show went 100% to plan, delivering three awesome sold-out nights in the famous Ahoy Rotterdam venue!"
Reflecting on the Rotterdam job Mr Swaak added: "The Montane+ system was completely new to us, together with the use of Notch, as was the workflow this set-up required between lights, content creators, video programmer and camera crew. This could have been unsettling for some, but the instant on-site support from Green Hippo's Phil Blue and Ryan Brown, as well as from Luke Malcolm of Notch was incredibly supportive. The Montanes did a great job, above expectation and couldn't even 'cool down' before being transported to the next job – Golden Earring live in Ziggo Dome, Amsterdam. After that, we're packing them for 14 sold-out Rotterdam shows. So, to be continued!"
www.green-hippo.com
Top Related Stories
Click here for the latest broadcast news stories.