Broadcast News
14/11/2017
House Of Worship Selects TSL Products' Broadcast System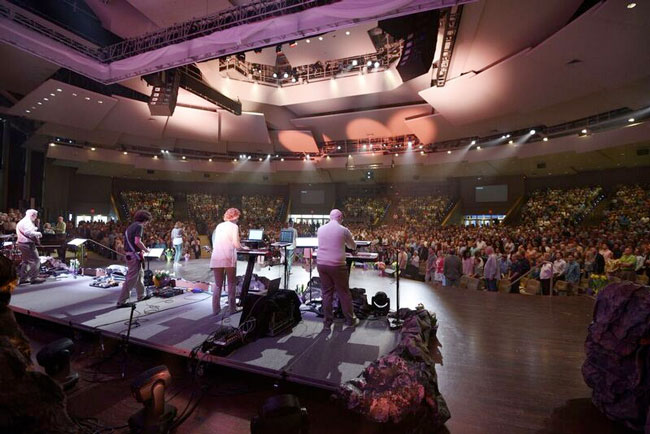 A TallyMan broadcast control system by TSL Products has been selected by the Lutheran Church of Hope as part of an upgrade of its AV operations.
Located in Des Moines, Iowa, the megachurch has 20,000 members across six campuses and its message is delivered to its congregation through a variety of ways including traditional services, streamed sermons, webcasts, YouTube videos and contemporary services supported by a 10-piece rock band.
Jim Sheppard, Chief Systems Engineer, ensures his team keeps up with the demands required to support these productions. They are in the process of overhauling much of the church's AV infrastructure to accommodate a transition from SD to HD, as well as the requirements of on-demand content infrastructure and streaming.
Sheppard explained: "We were looking to put in place a system that would allow us to stream to our multiple locations at the push of a button, while keeping the process simple and manageable for all our volunteers who are not necessarily AV experts. In particular, we were looking for a control system that would help us coordinate all our critical components to ensure that our volunteer operators are aware of and can easily instruct all the relevant systems at pertinent times throughout the production."
Every week, multiple sermons are streamed directly to all the satellite campuses from the technical core of the church's infrastructure. To help achieve this, Sheppard selected TSL Products' TallyMan broadcast control system.
The new system can interface with a range of equipment from different manufacturers that include routers and switchers, as well as multiple audio and video monitors and multiviewers. Sheppard is creating a customisable user interface for each position.
The engineering team can automate and simplify complex multi-step operations into push button control for their teams of volunteer/non-engineer operators. This, in turns, enables Sheppard's professional team to focus on technical triage and the task at hand, without worrying about the underpinning systems. In addition, due to TallyMan's cross-platform capability it will be able to integrate with the different types of routers that the Church has in its campuses.
"From the operator's perspective, it's the same interface," Sheppard added. "It makes it look the same even if the back end is different. That's why we didn't want to use a proprietary tally system."
www.tslproducts.com
(JP/LM)
Top Related Stories
Click here for the latest broadcast news stories.