Broadcast News
18/10/2017
L'espace Vision Invests In FilmLight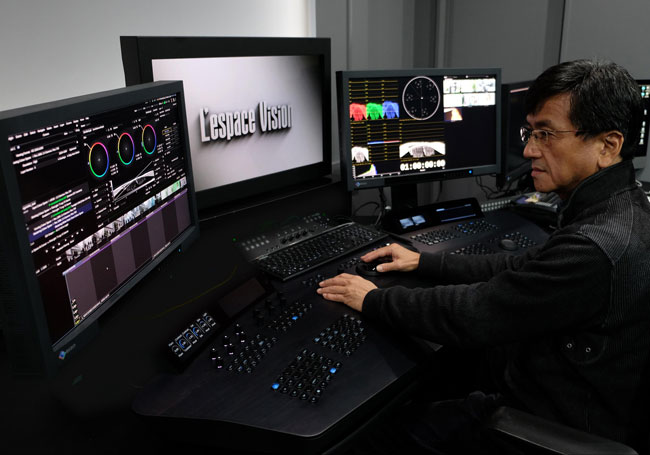 L'espace Vision, the Tokyo-based post house, has invested in a new grading suite from FilmLight.
In addition to a Baselight TWO workstation – complete with the new version 5.0 software – L'espace Vision is adding the 160TB FLUX Store post-production data server, designed to stream media throughout the facility, as well as providing additional support with its rendering and data management capabilities.
The new installation, which will open on 02 November, includes a Baselight TWO workstation with 80TB of local storage. It also includes the FilmLight FLUX Store modular storage, with a further 160TB of storage, protected by Baselight's distinctive RAID 60 system.
FLUX Store is a high-speed media store designed for the demands of post-production. It provides a cloud of hub storage for the complete post environment, but as it also incorporates multi-GPU rendering capabilities, it can be used to hand off major rendering tasks, and for ingest of raw camera footage.
The post house delivers services from set to final deliverables for movies, television series and commercials. Recently, the group expanded their services and added a new production company, L'espace Film. The new facility's grading suite will integrate into a complete workflow from pre-visualisation and dailies, based around the Baselight BLG file format.
Masahiro Nagashima, Colourist and Flame Artist, who led the project for the new grading suite, explained: "We've experienced all grading and mastering solutions at L'espace Vision, but Baselight is the only system today that is evolving the core of colour correction. We are expecting a real competitive edge from the comprehensive BLG workflow, from Prelight ON-SET through to Baselight in post."
Of the new version 5.0 software, he continued: "Automatic colour space conversion is one of its notable features. Base Grade also allows users to control primary grading in five areas. I believe that Baselight will become widespread in Japanese commercial post in the near future."
"We have had to develop high-speed, high-resilience storage and streaming to support our colourists who expect real-time performance even in HDR 4K," said Wolfgang Lempp, Founder and CEO of FilmLight. "FLUX Store is a natural extension of that technology, combined with our goal of seamless, collaborative workflow from set to delivery, using the best FilmLight and third party tools."
Image: Masahiro Nagashima from L'espace Vision on Baselight.
www.filmlight.ltd.uk
(JP/LM)
Top Related Stories
Click here for the latest broadcast news stories.