Broadcast News
25/09/2017
Bexel Launches New Sideline Audio/Video Cart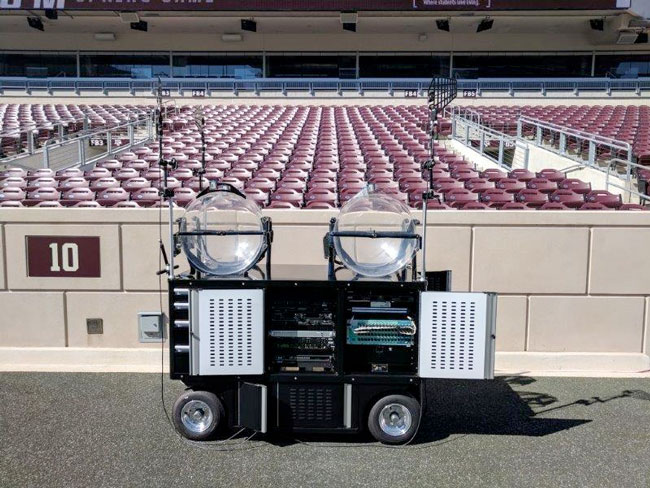 Bexel has launched its new Sideline Audio/Video Cart, a plug-and-play solution for streamlining the acquisition of field audio and video feeds in stadium sports productions.
The Sideline Audio/Video Cart can be deployed on the sideline or end zone of a sports field, or anywhere requiring quick and easy connections for video and audio feeds. It is fully customisable and can be equipped to each customer's specifications. As equipment can be pre-assembled in the cart, setup and strike times are reduced. The cart provides connections for single-mode fiber, SMPTE hybrid and copper cables, and hydra cable assemblies, and it enables MADI audio as well as wireless audio and video transmissions. A built-in patch bay makes it easy to monitor, troubleshoot, and manage signal routing.
The Sideline Audio/Video Cart can be moved into place and deployed in minutes by a single person, and it comes with integrated antenna poles, customized drawers for stowing gear, and a flat tabletop surface that can serve as an on-site workspace. The standard cart measures 72 inches by 47 inches by 36 inches, providing rack space for shows of any size.Furthermore, its weather-resistant housing protects gear in all types of conditions. The cart is powered via 110-volt outlet and provides an extended period of UPS backup power.
Lee Estroff, VP, Account Development, Bexel, commented: "At Bexel we're always looking to anticipate our customers' requirements with creative and innovative services while at the same time offering a systematic solution to their real-world challenges. That's exactly the thinking that went into our new Sideline cart. It's an efficient and self-contained vehicle that not only offers greater flexibility in acquiring audio and video feeds, but also accelerates setup and saves money. There is nothing else like it in the industry."
Image: Bexel's Sideline Audio/Video Cart.
www.bexel.com
www.nepgroup.com
(JP/MH)
Top Related Stories
Click here for the latest broadcast news stories.