Broadcast News
25/09/2017
Videocation Selects Leader's LV7390 Rasterizer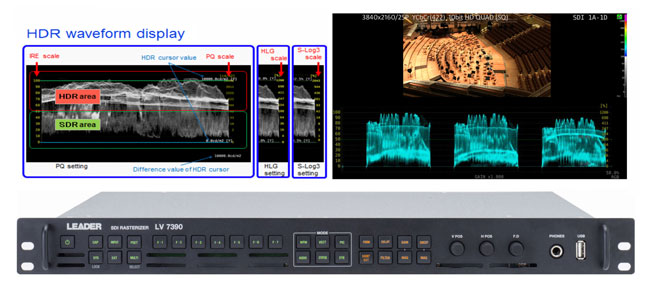 Videocation has purchased a Leader LV7390 multi-standard multiscreen test instrument for integration into a major new studio installation, it has been announced.
The LV7390 will be used during the recording and finessing of concert performances by one of Europe's highly acclaimed orchestras. These are being captured in UHD HDR productions for subscribers to the orchestra's video streaming platform.
Charlie Nedeltschev, Managing Director, Videocation, said: "High-dynamic-range is especially useful in concert hall environments as bright lighting on the performers combined with low lighting in the auditorium is very challenging when televised in standard dynamic range. The need for HDR becomes even stronger with the transition from high-definition to UHD. Originating and distributing in UHD HDR will enable viewers to experience the orchestral performances in their own homes at a very high level of realism. The project includes UHD HDR cameras, mixers and monitors for the auditorium and the video studio plus high-sampling-rate immersive audio with lateral and vertical surround sound."
"Videocation also specified the LV7390-OP20 upgrade module which supports HDR programme production in both high-definition and UHD," added Christophe Bingemer, Managing Director of Leader Europe reseller Logic Media which supplied the LV7390. "The combination enables the producers to ensure that they are making the maximum use of the available video and audio bandwidth and dynamic range from initial signal capture right through to delivery and archiving. With the rasterizer connected to a large-screen video display, video and audio signal waveforms and related data can be monitored in detail or combined for simultaneous viewing of preselected parameters."
The Leader LV7390 is a compact 1U 3G/HD/SD-SDI rasterizer which can be used to measure up to four source channels simultaneously. It can be deployed for desktop or rack-mounted operation. Designed for easy connection into 3G-SDI, HD-SDI and SD-SDI systems, the rasterizer incorporates full-resolution 3G/HD-SDI and DVI-I raster outputs which allow detailed video and audio parameters be checked on a separate monitor in full 1920 x 1080 HD resolution. The LV7390 can be configured by the operator to display waveform, vector, picture, audio and SDI status.
www.leader.co.jp
(JP/MH)
Top Related Stories
Click here for the latest broadcast news stories.