Broadcast News
04/09/2017
Rotolight Unveils NEO 2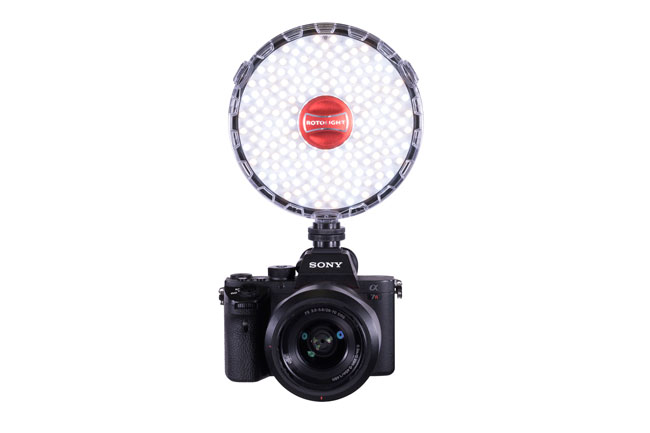 Rotolight has announced the launch of NEO 2.
The all-in-one High Speed Sync flash and continuous on-camera LED light has no recycle time, ensuring that users – whether photographers or filmmakers – never miss a shot.
NEO 2 can simultaneously be a continuous 'modelling light' and HSS flash, allowing the user to gain focus in dimly-lit situations and optimise composition. Designed for portrait photographers and videographers on the go, NEO 2 delivers the 'shoot what you see' benefits of continuous light, and the flexibility of HSS flash (1/8000th sec.) with 500% flash output, whenever users need more power or to freeze action. HSS also enables users to shoot with wider apertures to create separation between subject and backgrounds.
Rotolight has collaborated with Elinchrom to integrate its 'Skyport' 2.4Ghz HSS wireless flash receiver into NEO 2, eliminating the need to purchase a standalone flash receiver, while providing reliability, range and flexibility for multiple off camera lighting setups. Skyport enables users to wirelessly control up to 10 lights, in four groups at up to 200m (656ft) with the new Rotolight HSS transmitter, optimised for Rotolight by Elinchrom. It is available on launch for Canon, Nikon, Sony, Olympus, Panasonic, and, shortly, Fuji camera systems. It is also compatible with other Elinchrom Skyport devices.
Featuring electronically adjustable colour temperature in both flash and continuous modes, with a built-in kelvin display, NEO 2 enables photographers to easily adjust white balance or match ambient light settings to create more natural looking shots.
Lightweight and portable, NEO 2 can be mounted both on or off camera for creative control. Delivering long battery life, NEO 2 provides 85,000 full power flashes on a single set of rechargeable AA batteries. In addition, the light is now 85% brighter in continuous mode than its predecessor.
NEO 2 includes an updated suite of CineSFX effects, Rotolight's feature set for video productions/ filmmaking, (fire, lightning, TV, gunshot, paparazzi and others), as well as Designer Fade mode for custom in-camera fade FX. The lighting system also features Rotolight's AccuColour LED technology that delivers colour rendering for perfect skin tones. The circular shape provides a naturally soft, flattering light output, with Rotolight's signature catchlight effect.
Rotolight NEO 2 is available as a single light, including a belt pouch, accessory shoe, power supply and four-piece filter pack including diffusion, skin tone and magenta, or as a three-light kit with hard flight case, stands and ball heads. Optional accessories include softboxes, raincovers, and 10-piece colour filter pack.
Rod Aaron Gammons, Managing Director, Rotolight, said: "It enables photographers to spend more time composing the perfect shot, rather than spending time on cumbersome lighting setups. For those shooting both stills and video, it entirely eliminates the need for two separate purchases."
www.rotolight.com
(JP/LM)
Top Related Stories
Click here for the latest broadcast news stories.