Broadcast News
14/08/2017
AIMS at IBC2017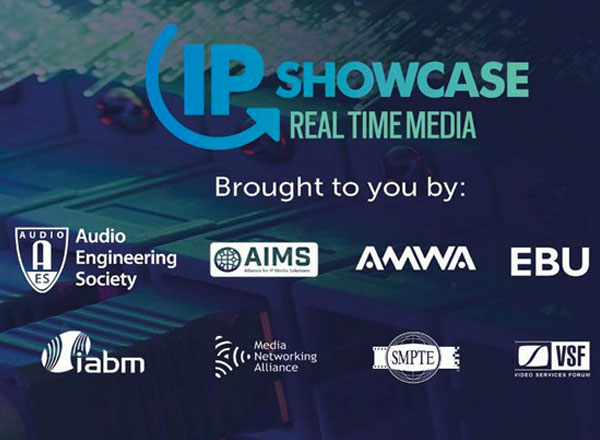 The Alliance for IP Media Solutions(AIMS) has announced its participation in a number of activities at IBC2017 to highlight progress in the march toward uniform IP interoperability.
IP Showcase Interop Demonstrations
Based on the success of IBC2016's IP Interoperability Zone and a similar event at the 2017 NAB Show, AIMS will present the IP Showcase at IBC2017 in partnership with AES, AMWA, EBU, IABM, IBC, MNA, SMPTE, and VSF. The IP Showcase is a one-stop destination where everyone from broadcast/IT engineers and CEOs to TV producers can learn everything they need to know to unlock the full potential of using IP for real-time media. In addition to an area for illustrating general SMPTE ST 2110 interoperability as in the past, there will also be three new areas:
• A live production area showcasing a working live production system based on SMPTE ST 2110
• A playout area featuring a working playout and contribution system based on SMPTE ST 2110
• An AMWA Connection Management area to demonstrate progress toward a new connection-management specification, IS-05, which will be complementary to the IS-04 registration and discovery specification
The IP Showcase will feature the AIMS "IP in Action" wall, which displays information about reference sites that use IP technology on the AIMS roadmap. Each tile on the wall summarizes IP in action — a description of a real-world scenario in which IP technology is being used, the standards implemented, and the benefits derived.
IP Showcase Theater
During IBC2017, AIMS members will be well represented in the IP Showcase Theater, sponsored by the IABM, where they will give educational presentations on IP installations or IP technology based on and in support of the AIMS roadmap.
More than 40 presentations will be offered in the IP Showcase Theater over the course of the show. Visitors will hear about the rapidly increasing number of real-world IP deployments from broadcasters who have already embraced IP signal flows. They will also learn about the business and creative benefits of IP and how they can apply those benefits to their own operations.
AIMS Member Interop Demonstrations in Member Stands
Several AIMS members will have AIMS-branded sections of their stands at IBC2017 where they will showcase cross-vendor interoperability using transport technologies on the AIMS roadmap. A broad range of SMPTE ST 2110 standards-compliant systems will be on display from AIMS members, who will collaborate with each other to highlight specific workflows that are possible in IP today — such as contribution, live production, playout, and distribution.
aimsalliance.org
Top Related Stories
Click here for the latest broadcast news stories.