Broadcast News
21/07/2017
Quantum Leap In Media Storage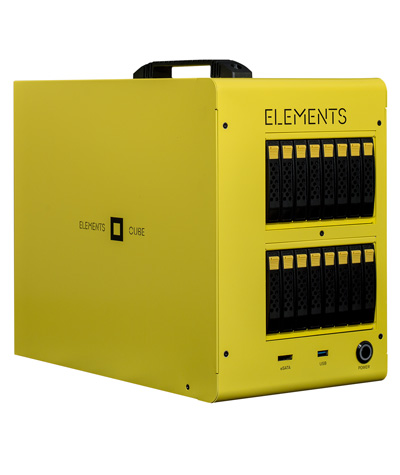 Imagine your media storage would provide you with all the tools you need on a daily basis to manage and maintain the system, such as a proper user and rights management, workspace and project management, a file manager and even a task manager that allows you to easily automate your workflow.
Now imagine you could use this shared storage for ALL your clients in the network – even including Avid – and share one file system across the entire facility. Wouldn't it be great to skip all those rather complex media management tools or complicated workarounds like time-consuming data shuffling to make the media files available for all applications?
Upgrade to simplicity
ELEMENTS, Germany-based developer of innovative and advanced technologies for the M&E industry, has managed to develop just that: high-performance media storage and server technology that bridges the gap between all clients, enabling Avid to connect directly one file system with all other applications, and sharing media files natively across all platforms and applications – with full Avid bin-locking and Avid Project Sharing support.
Beyond contributing to significantly simplified and streamlined workflow processes, all of ELEMENTS solutions are fully loaded with a comprehensive set of field-proven web-based workflow management features, allowing users to take ultimate control of the shared storage file system. And all of that while being unusually simple and intuitive to manage. Designed for video professionals, as opposed to IT professionals, ELEMENTS' server and storage solutions require virtually no IT skills, neither regarding the initial setup or the ongoing maintenance.
Cut the cord – and get mobile
To top it off, the high-end solutions also incorporate ELEMENTS' own Media Library, a sophisticated, yet easy to use media asset management system with a fully intuitive HTML-5 based graphical user interface for professionally managing, presenting and sharing media assets from anywhere. Media Library also provides practical features such as adding notes or comments to certain clips or frames, rating particular sequences and even creating on-screen annotations.
With its easy-to-use Rough-Cut editing tool, the Media Library empowers users to create rough-cuts, using any laptop, tablet or workstation. Rough-cuts made in the Media Library are fully compatible with virtually every professional editing application available today, including Avid Media Composer and Adobe Premiere with dedicated plug-in, so the entire project can be transferred seamlessly with all comments, tags and custom fields added in the Media Library being fully visible and accessible in those professionals editing suites. The Media Library that is fully compatible to virtually every professional editing application available today, such as Avid Media Composer, Adobe Premiere, Apple Final Cut Pro and others, enabling operators to transfer entire projects seamlessly from the Media Library to any other editing application.
So, what happens when you take all of this functionality and go mobile? ELEMENTS CUBE is the award-winning mobile version of this powerful solution, providing between 16TB and 32TB in an ultra-small portable media storage unit, while putting less than 8kg (18lbs) on the scale, even when fully populated. In addition to supporting SAS, SATA and even SSD drives, ELEMENTS CUBE has also USB 3.0 and eSATA slots on board, while also allowing the use of ingest cards.
ELEMENTS CUBE allows for highest productivity on set and on the go by granting highly secure access to the media assets through the web-based, fully intuitive GUI. With CUBE, users are able to begin the post-production process while being still on location by pre-viewing, pre-selecting and even editing the media assets right on set – with every device available. And once back at the post-production facility, you can transfer the media assets – including all rough-cuts created with the Media Library – to both the central shared storage or to any given professional editing application.
www.elements.tv
Top Related Stories
Click here for the latest broadcast news stories.