Broadcast News
01/06/2017
Custom Consoles Completes Project For RTL City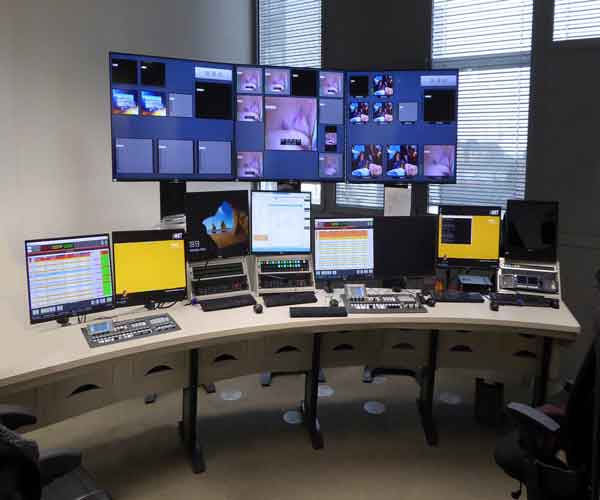 Custom Consoles has completed a major studio furniture project for RTL City, one of Europe's largest broadcast media centres.
The new building is also the headquarters of Broadcasting Center Europe (BCE) which provides broadcast support services to around 400 clients.
"We were keen to source all the desks from a single supplier to keep the task of equipment installation and wiring as consistent as possible," said BCE's special projects manager, Costas Colombus. "It was also a logical decision in terms of efficiency, future maintenance and unified visual styling.
"A very careful study of the available furniture products was made before we chose Module-R and EditOne desks from Custom Consoles. They sent samples for us to evaluate and provided constructive ideas based on the high degree of design flexibility made possible by combining elements within the Module-R product range.
"Module-R proved a much more attractive option than working with vendors who could only offer one-piece desks of fixed sizes. We were able to specify furniture which exactly fitted the various room dimensions without incurring the potentially high cost of commissioning entirely new designs.
"Custom Consoles prefabricated the Module-R desks at their UK factory before joining the large elements together on site. They were very precise with their sizes so incorporating technical equipment such as desktop control panels proved quite straightforward. Cabling was very easy and our entire team liked the quality of the final product. Our operators are very happy with the ergonomics of the installed furniture which looks great and feels very robust.
"EditOne desks were chosen for the edit suites where the equipment integration requirements were less elaborate. For many of our display mounting requirements, Custom Consoles Media Wall and Media Post between them proved very versatile."
RTL City's technical facilities are located on three floors with a very large apparatus room at ground level. Floor 2 houses seven broadcast control suites plus the network operations centre. The broadcast control suites are each equipped with a Module-R desk and MediaPost video monitor display mount. Module-R desks and Mediapost video monitors were also provided for ingest rooms adjacent to the broadcast control suites.
Also on Floor 2 is the Network Operations Centre. BCE specified a 6 metre wide x 3 metre U-shaped desk facing a Media Wall with 12 55-inch video monitor screens in a 2 high by six wide array plus three loudspeakers.
For the NMC1 network master control suite, Custom Consoles produced two 5.9 metre wide rectangular desks positioned as front and back rows facing a ten-55-inch-screen monitor wall. A vision switcher is integrated into the front desk together with equipment pods accommodating an auxiliary panel for the switcher plus talkback. Camera control panels are integrated into the rear desk.
Two desks were commissioned for NMC2. Largest is a 5 metre wide rectangular design with a 2.7 metre left-hand spur. The main section incorporates an audio mixer panel, vision switcher and camera control units plus auxiliary equipment pods. The desk faces a Media Wall supporting four side-by-side 55 inch monitors and four monitor loudspeakers. The second desk in this suite has two 3U-high desktop equipment pods is designed for single-operator use.
A curved desk for use by up to three operators has been provided for the BCO2 operations suite. This incorporates a worktop-embedded routing control panel and three 3U-high desktop equipment pods. The desk faces four Custom Consoles MediaPost monitor mounts, each supporting an NEC 55 inch display screen to form a concave configuration.
Adjacent to the NOC is the System Administration Room. Custom Consoles supplied a bespoke desk, that fills three walls of room, maximising the available space. Media Wall elements are incorporated to mount 35 flat screen monitors.
Also on Floor 2 are six digital media operations rooms, each with a five-bay Module-R desk and 13U high equipment pod.
The technical suites on Floor 1 are similarly furnished mainly with Module-R except the edit suites where Custom Consoles EditOne desks provided optimal solutions in terms of size, facilities and cost-efficiency.
Fitted to many of the desks are B-Tech computer display support arms. Custom Consoles also supplied KAB Controller chairs designed for staff working long shifts.
www.customconsoles.co.uk
Top Related Stories
Click here for the latest broadcast news stories.