Broadcast News
21/04/2017
Wisycom To Unveil New Products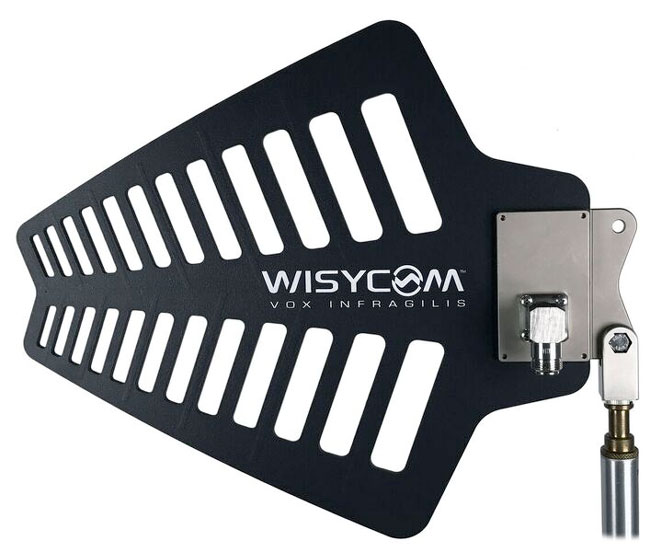 Wisycom will unveil two new wideband antennas at NAB 2017, Booth C856. The LBN2/LNN2 UHF Wideband Antenna and the LBP/LNP Wideband Antenna with Amplifier both boost RF signals, resulting in a larger coverage area for its users.
The LBN2/LNN2 is an Ultra High Frequency (UHF) wideband antenna that features Log Periodic Dipole Array (LPDA). This antenna works within the 420-1300 MHz frequency range and enhances reception by providing a gain of approximately 6dBi with a beam width of 140 degrees. The two versions of this antenna, LBN2 and LNN2, can be distinguished based on the provided connector; the LBN2 comes with a BNC connector while the LNN2 comes with an N connector.
Wisycom's LBP/LNP is a wideband antenna LPDA with a linear amplifier designed to boost RF signals around 20db. With different configurations, the antenna can work within the 435-800MHz frequency range and provides approximately 6dBi of gain with a typical beam width of 90 degrees. The amplifier is powered through the coaxial cable attached to its input connector (200mAat12V) and is housed in aluminium with waterproof sealing, making it suitable for outdoor installations. The LBP version of this antenna is provided with a BNC-female type connector, while the LNP version comes with an N-female type connector. When mounted, the antennas measure 5/8", or 3/8" with adaptor.
Massimo Polo, Sales and Marketing Director, Wisycom, said: "As a company, we are always trying to increase our product offerings with the next best thing. The addition of these two antennas to our diverse range of products gives our users the ability to expand their RF reach on larger projects. We are excited to show these new antennas off at NAB and are looking forward to being among well-respected leaders in the industry on the show floor."
www.wisycom.com
(JP/LM)
Top Related Stories
Click here for the latest broadcast news stories.