Broadcast News
25/07/2017
Wisycom Expands Wireless Offerings At IBC 2017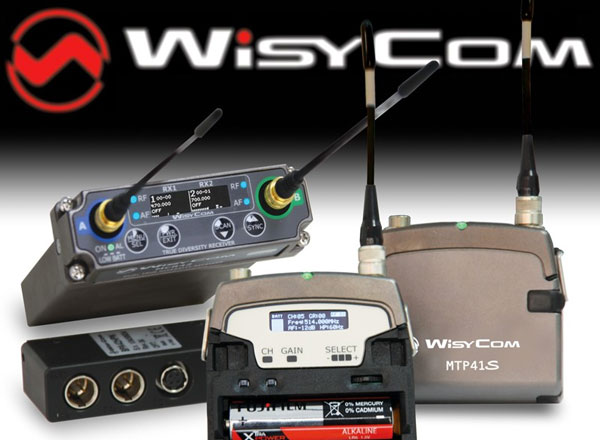 Wisycom has announced that at IBC 2017 they will be presenting its brand-new options for broadcasters and live production engineers, giving its users the ability to widen their wireless reach in a cost-effective, efficient manner.
On display at the company's stand (8.D78) will be its MAT244 Programmable RF Combiner along with two new antennas, the LBN2/LNN2 UHF Wideband Antenna and the LBP/LNP Wideband Antenna with Amplifier.
Massimo Polo, Sales & Marketing Director, Wisycom, said: "We are thrilled to be presenting new options to our customers that allow them to reach farther than before with the confidence that Wisycom products provide. Wisycom's products can be utilized in various configurations for a range of applications across the globe, no matter how large or small. The new MAT244 RF matrix combiner gives users Wisycom's famous RF distribution technology in a condensed package, suitable for any type of broadcasts or productions."
The MAT244, based on the company's larger MAT288, is designed to combine RF from four separate locations on the fly, thanks to a matrix of solid-state switches. It operates on a wide bandwidth from 150-840MHz and can be managed remotely via Ethernet, which gives its user an unparalleled freedom of movement. Each input sports programmable attenuators and antenna boosters can be supplied on every input independently. The MAT244 features unrivaled reliability and runs on a redundant power supply (AC/DC). The combiner provides excellent flexibility and gives users the freedom to deploy his/her own wireless audio infrastructure.
The company's LBN2/LNN2 is an Ultra-High-Frequency (UHF) wideband antenna that features a Log Periodic Dipole Array (LPDA). This antenna works within the 420-1300MHz frequency range and enhances reception by providing a gain of approximately 6dB with a beam width of 140 degrees. The two versions of this antenna, LBN2 and LNN2, can be distinguished based on the provided connector. The LBN2 comes with a BNC connector while the LNN2 has an N connector.
Wisycom's LBP/LNP is a wideband LPDA antenna with a linear amplifier designed to boost RF signals around 20db. With different configurations, the antenna can work within the 435-800MHz frequency range and provides approximately 6dB of gain with a typical beam-width of 90-degrees.
The amplifier is powered through the coaxial cable attached to its input connector (200mA at 12V) and is housed in ruggedized aluminum with waterproof sealing, making it suitable for outdoor installations. The LBP version of this antenna is provided with a BNC-female type connector, while the LNP version comes with an N-female type connector.
These new antennas are made of copper-clad epoxy fiberglass with a black matte finish. When mounted, the antennas measure 5/8" or 3/8" with the adaptor. Their construction allows them to work in even the harshest weather environments, consistent with Wisycom's well-known reputation as a creator of high-quality, reliable products.
Polo concluded: "As a company, we are always trying to increase our product offerings with the needs of our current and future customers in mind. With the addition of the two new antennas, Wisycom now provides a stronger RF reach on any size project. We are excited to be presenting all our new products at IBC and are looking forward to being among the industry's well-respected leaders on the show floor."
wisycom.com
Top Related Stories
Click here for the latest broadcast news stories.