Broadcast News
05/04/2017
MSE's ROVER Makes A Big Difference For Chris Metcalf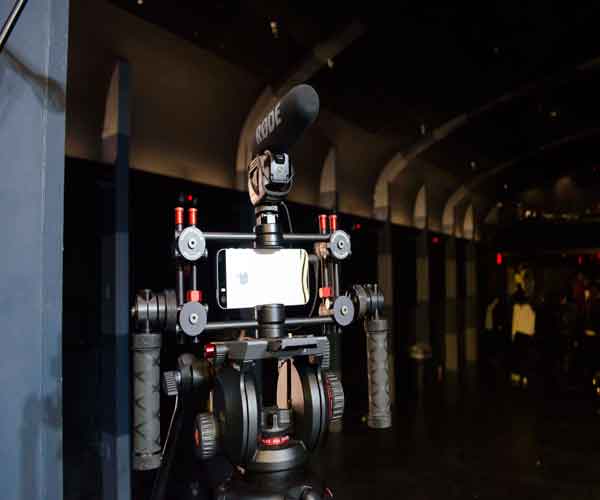 Matthews Studio Equipment has announced its new ROVER made a big difference for Chris Metcalf's recent live stream for the podcast 2 Dope Queens starring Phoebe Robinson and Jessica Williams.
When Metcalf, a Los Angeles-based cameraman, was brought in to shoot a Facebook live video for the popular New York City-based podcast, emanating from the Teragram Ballroom in Downtown Los Angeles, the assignment was to broadcast two shows using the Facebook Pages app on his iPhone. He realized a device that could keep his iPhone steady on a tripod for four hours of live broadcasting.
"It was just simple steady, we would be panning and tilting to follow along with the action on stage," he said. When a friend, who knew about the new ROVER, introduced him to Tyler Phillips at MSE, he knew, once he picked up the equipment, his problem was solved.
"I simply paired the ROVER with my Manfrotto Tripod using the ¼-20" treading on the bottom of the ROVER," he explained. "I also had hopes of using an external microphone to get better sound. The cold-shoe mount on top of the ROVER was perfect for that." The availability of this option was a major plus in his thoughts of using ROVER on more jobs.
"It was also nice to have the extra ¼-20" threads on the top of ROVER to add additional accessories such as an on-board light (if needed)," he added.
"The ROVER held solid for me throughout the entire night and was the perfect solution for keeping this live broadcast steady."
Metcalf is already thinking of future projects where ROVER is the perfect support. "As the era of live-streaming is growing more and more prevalent each day (with platforms such as Facebook Live, Periscope, Instagram Live and many others) support systems like the ROVER are going to be in high demand," he said. "In my case, it was a simple setup of an event on a stage but I can see tremendous potential for the ROVER at other, more active events (sports, concerts, rallies, trade shows, etc.). I used it on a tripod, but with the handles on the side being used to hold ROVER, it can go anywhere. Thinking outside of Live streaming, there are entire feature films that are being shot on Smartphones now (Tangerine for example), so the future growth seems inevitable for this kind of smartphone/camera support system."
Metcalf is no stranger to MSE gear. He owns two INFINITY ARMS, which he uses as often as he can. "Mostly to support external monitors attached to a camera body," he explained. "This works great for interview setups that I have done recently shooting on both the Sony F800 and Canon C300 Mark II with the Convergent Design Odyssey 7Q+. I also own MSE SUPER MAFER that I use occasionally (in conjunction with an articulating arm, such as the INFINITY ARM). The MATTHELLINI CLAMP is also a big part of my set up."
The ROVER was conceived to provide a comfortable ergonomic position, so that hands and arms stay relaxed and the camera movement remains smooth and steady. Integrated dual handles connect to the unique Perfect Friction mounts that instantly adjust to any point of 360-degree rotation without additional tension adjustment or locks. This one-of-a-kind design also allows the handles to become a natural extension of the body; and they double as easel arms, perfect for low angle shooting, table-top viewing and editing.
Every detail of the Rover has been designed to provide a professional level of performance. To ensure flexibility, Rover was designed with 16 Points of Freedom which are industry standard ¼-20 screw mounts for customizing and accessorizing the rig for any situation. Combined with MSE's MicroGrip hardware it can be mounted to rails, windows, trees, cars; almost anywhere. With Rover's strength, comfort and versatility, the smartphone is now ready for an upgrade to professional.
www.msegrip.com
Top Related Stories
Click here for the latest broadcast news stories.