Broadcast News
31/03/2017
Faceware Technologies Relies On AJA Ki Pro Rack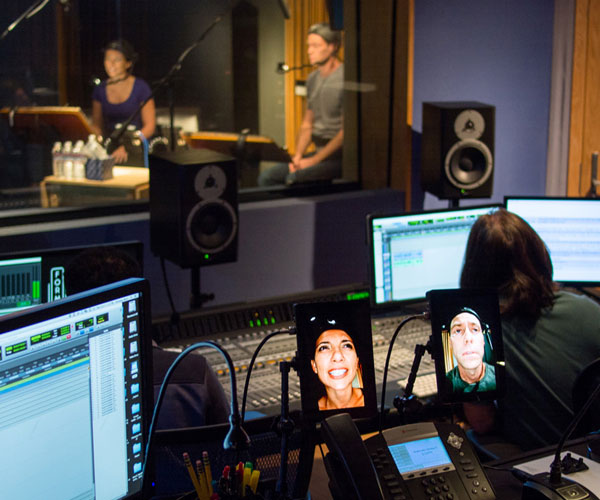 Faceware Technologies develops complete hardware and software solutions to deliver advanced facial motion capture to the top film, video game, television and entertainment companies in the world.
A sister company to Image Metrics, Faceware has spent over twelve years building facial motion capture software and pipelines. It also sells, rents and provides on-set services to clients in entertainment. Reliable video capture is essential to the success of Faceware's workflow, which for over seven years has relied on recorders from the AJA Ki Pro family.
The Faceware solution is centered around analysis and retargeting software that tracks every pixel of a facial performance to create detailed mathematical output of both motion and texture data. Data is captured from a head mounted camera rig that records video footage of the performer's face. Faceware's custom miniature HD-SDI cameras sit at the end of boom arms off the side of a helmet. That signal is fed via a belt worn Teradek transmitter and recorded onto a Ki Pro Rack.
Christopher Jones, Director of Hardware and Capture at Faceware Technologies, said: "Aside from reliability and excellent support, I chose to work with Ki Pro recorders because the web interface and published Python API are huge for us. The fact that I can start and stop record and playback, arm or disarm decks, match timecode to clips, and name all of our files correctly via a web interface is key. With the web interface, we can put the Ki Pro Racks on any network and control them from wherever we need to be whether that's the mocap stage or ADR booths, which makes it easy for us to adapt to any location we're going to."
Faceware rents and sells systems, and also runs a service business, covering the range of client needs for companies from MPC to Framestore, Electronic Arts and Warner Brothers, among others. When Faceware sells complete systems, they include a SmallHD monitor, Ki Pro or Ki Pro Rack, a Teradek, cabling and accessories, a battery kit, a camera and a mocap specific fiberglass helmet set custom packed into Pelican cases. Many top motion capture studios, game developers and visual effects facilities around the world are using them.
"Ki Pro technology is the master VTR for our Faceware systems, and we rely heavily on the reliability of their recording. The hardware is well built, and the drives have proven to be very reliable over the years with countless hours of repeated use. In seven years, we only experienced one drive failure due to a faulty power supply, and AJA overnighted a new one to us, no questions asked. That's why we stick with AJA," concluded Jones.
aja.com
Top Related Stories
Click here for the latest broadcast news stories.