Broadcast News
05/12/2013
AJA Ki Pro Reaches New Heights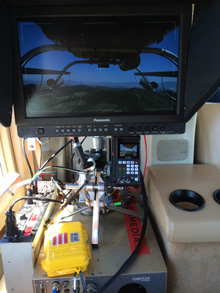 Founded in 2007 by Emmy Award-winning cinematographer Skip Margetts, Helimedia supplies aerial filming support across Southern Africa live-event broadcast, film, television and advertising.
Helimedia's two-man team uses two AJA Ki Pro digital video recorders and a newly added AJA Ki Pro Quad supporting 4:4:4 HD/2K and UHD/4K workflows.
Helimedia first began using Ki Pro in 2010, as it became the first company to provide aerial filming services for the Football World Cup in South Africa. "From the moment we bought the Ki Pros, I was in love with them," said Skip.
"They allowed us to turn around footage for editing and worldwide distribution almost instantly – something we'd never been able to do before. They're phenomenal and have revolutionized our approach to filming."
Over the next few years, as camera technology evolved, Margetts saw the integration of ProRes 444 recording into Helimedia's workflow.
After seeing AJA's Ki Pro Quad at the National Association of Broadcasters Convention (NAB) 2012, Margetts was confident he'd found the solution he was looking for.
"When I saw a mockup of Ki Pro Quad, I wanted one – even though it wasn't available yet and there were already other 4:4:4 recorders on the market. I knew it would be worth the wait, and I was right."
Helimedia has used the recorder to produce aerial footage in ProRes 444 for live events across the country, as well as for forthcoming films like Neill Blomkamp's CHAPPIE.
"The Ki Pro Quad is like my Amex; I don't go anywhere without it. Even if we're shooting 422 on our Ki Pros, I'll have a Ki Pro Quad as backup for double redundancy," Margetts shared.
"It's a flexible device and the quality of the footage is always great. With the rollover it gives us, the sky is the limit, so there's never a concern about running out of drive space."
Helimedia's workflow boasts a Cineflex gyro-stabilised cinematography system to capture footage for all projects.
Located in the ball on the front of the helicopter are a lens, gimbal and CCD block, and inside the aircraft next to the operator is an Aux Box, which houses a Sony HDC 1500 camera.
For live projects, Helimedia uses a single link HD-SDI cable straight from the Aux Box into the Ki Pro Quad. The camera outputs a single-link HD-SDI signal into the Ki Pro Quad, which is recorded in ProRes 422 and sent to an HD monitor. To play back recorded footage to the OB truck, the team will come out of the monitor HD-SDI into an HD microwave link.
The built-in LCD screen on the Ki Pro Quad has enabled Margetts to better view, rewind and fast forward footage in flight. "It's fantastic and very useful to be able to see the picture on the Quad," he said.
"Without danger of destroying our master, we can look back to make sure everything is there, so when we land, I know our footage is safe on the Pak drives. They're so good that you never have to worry about them crashing.
"There are no take twos with what we do, and with AJA, the technology works when you need it to every time. If the Ki Pro Quad is recording, you know it's recording and you won't have a problem afterward. That's invaluable. I can sleep safe at night because I never have to worry about awaking up to a call about some problem with the devices – they're that solid."
www.aja.com
(IT/CD)
Top Related Stories
Click here for the latest broadcast news stories.