Broadcast News
10/12/2013
Fat Dog Hails AJA Ki Pro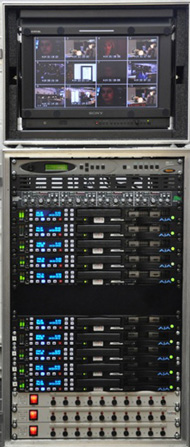 Phil Wade and Leslie Zunz's company Fat Dog Solutions specialises in studio design and engineering services, as well as equipment rentals.
The UK firm has established a client base ranging from corporate customers like ICANN, PwC and Johnson & Johnson to broadcast clients like Channel 5. AJA's Ki Pro and Ki Pro Rack digital video recorders have played a key role in the company's success.
MD Phil Wade first discovered the Ki Pro three years ago.
"As soon as we saw the Ki Pro, we were impressed. It's such a clever piece of kit in terms of cost of revenue, that it's completely viable," Wade shared.
"You don't have to cull several pieces of gear to upscale, downscale or garner multiple types of input; it's all built in. The Ki Pro is a one-stop shop for composite, component video, standard SDI, HD-SDI and more."
Wade has also invested in several Ki Pro Racks. With support for DNxHD, fast Ethernet file transfers, extended audio connectivity and a secondary HD-SDI output for both window burns and secondary SDI output needs – all in a 1RU form factor, the Ki Pro Rack has expanded the types of customers with which Fat Dog Solutions is able to work.
"Not only does Ki Pro Rack support DNxHD, but it also allows customers to condense all of their material into a smaller form, which is very practical for clients working on larger jobs," Wade shared.
Fat Dog customises the design of every Ki Pro Rack rental unit to suit its clients. A typical build includes up to ten Ki Pro Rack units, as well as multi-view monitoring, power distribution with UPS backup, and time code generators and distribution to enable the recording of up to ten sources simultaneously.
"If you're persuading a client to change recording methods and something goes wrong, you've just put your reputation on the line. Naturally, reliability is hugely important in this business and you really have to trust your equipment," Wade says.
"Every Ki Pro product is well engineered, and AJA never releases a software update until it's tried and tested. Unlike other brands that can be fiddly, AJA products provide unmatched connectivity and fit into existing infrastructures quite perfectly. Our rental customers always have great things to say about them."
www.aja.com
(IT/JP)
Top Related Stories
Click here for the latest broadcast news stories.