Broadcast News
23/03/2017
Guntermann & Drunck Focus On 4K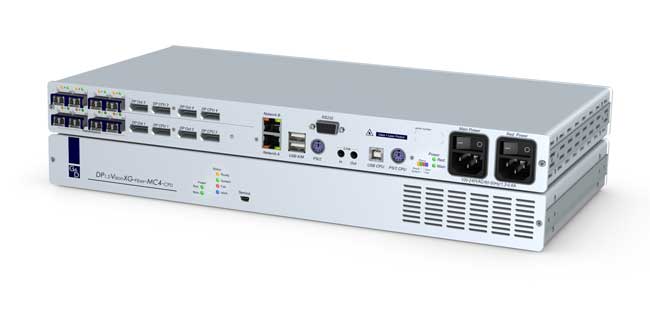 At NAB Show 2017 (booth N562), Guntermann & Drunck will present its broad KVM portfolio.
The US subsidiary of the German KVM manufacturer will be at the show to present its portfolio with the stand dedicated to 4K. A range of KVM systems, which are capable of extending and switching 4K video signals even over long distances – pixel-perfect, loss-less and without latency – will be demonstrated.
The DisplayPort KVM extender system DP1.2-VisionXG consists of a computer module (transmitter) and a user module (receiver) and extends computer signals via fiber optics over distances up to 10,0000m. The transmission of high-resolution DisplayPort video signals is uncompressed, pixel perfect and lossless. The dedicated transmission via optical fibers offers sufficient bandwidth for an uncompressed and pixel-perfect transmission of 4K and 8K videos at 60Hz as well as for keyboard/mouse, RS232, USB2.0, and audio signals. The system includes features such as the screen-freeze function, the monitoring function, a redundant power supply, SNMP, and two network ports.
Another highlight will be the presentation of compressing systems, which include G&D's in-house HDIP compression technology in the latest development stage, Level 3. This compression mode allows the loss-less transmission of video signals with a resolution of 4K at 60Hz. The KVM extender DP-Vision1.2 already uses the advantages of this new compression mode for the extension of computer signals either via fiber optics up to 10,000 m or via CAT cables up to 140 m.
It is even more exciting when it comes to extending computer signals not only as a point-to-point connection, but when these signals are also switched and distributed – or when several computers are to be operated remotely via different, simultaneous workstations. Following G&D's principle of mix and match, all products, as well as their variants, are compatible and can be combined with each other. The KVM extender DP1.2-Vision can be integrated into G&D matrix systems such as the ControlCenter-Compact or the ControlCenter-Digital, which allows the extension and switching of 4K at 60 Hz through the matrix.
Based on IP structures, the new KVM extender DP-Vision-IP system supports DisplayPort video resolutions up to 2560 x 1600 @ 60 Hz or 3840 x 2160 @ 30 Hz. Combinations with other G&D systems are also possible thus allowing complex installations with worldwide access.
Image: The new KVM extension DP1.2-Vision-XG extends computer signals up to 10,000m via fiber optics and transmits 4K videos at full 60 Hz without using any kind of compression.
www.gdsys.de/en
(JP)
Top Related Stories
Click here for the latest broadcast news stories.