Broadcast News
22/03/2017
ES Broadcast Adds To Portfolio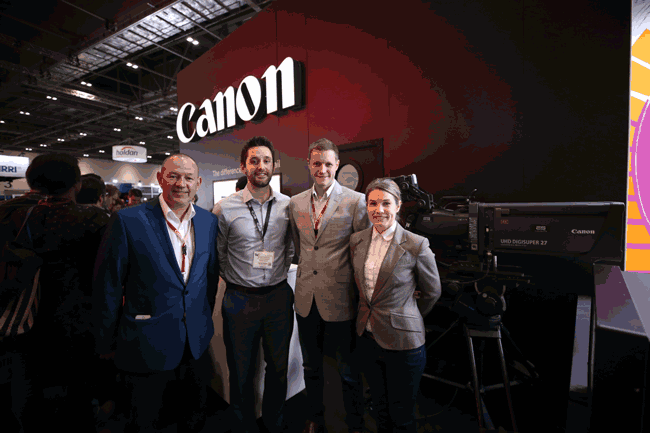 ES Broadcast has announced that it is to take delivery of Canon's new UHD DIGISUPER 27 (UJ27x6.5B IESD) 4K studio and field broadcast lens. It will be the first live production rental house in Europe to do so.
The UHD DIGISUPER (UJ27x6.5B) is a 27x telephoto broadcast zoom lens with a 6.5-360mm focal range using the built-in 2x extender. An initial delivery of four lenses is set to arrive in early April.
In addition, ES Broadcast is also due to take delivery of its first Canon UHD DIGISUPER 86 (UJ86x9.3B) lenses which – along with a large existing fleet of Canon UHD DIGISUPER 90 (UJ90x9B) lenses – means that the company will be able to offer Canon's full range of UHD studio and field lenses for hire.
Warren Taggart, Managing Director of ES Broadcast's hire division, said: "Studios and outside broadcast companies have been requesting a smaller UHD box lens for some time now. Building on the success of Canon's original HD DIGISUPER 27 lens, I am sure the new UJ27 will be very popular indeed. The ease of use and reliability of Canon's products will no doubt ensure trouble-free shooting for our UHD customers."
James Burwood, Product Manager, Professional Imaging, Canon UK & Ireland, added: "Our UHD DIGISUPER lenses are designed for any studio or field workflow so with the UJ27, users will be able to capture the best quality content possible in any situation. And with Canon's in-house lens servicing, ES Broadcast can be sure that its lenses will remain in the best condition to continue capturing the highest quality images for its customers into the future."
Image: (L–R) Warren Taggart, Managing Director, ES Broadcast Hire; James Burwood, Pro Product Manager, Canon UK; Edward Saunders, CEO, ES Broadcast; and Rebecca Knight, Key Account Manager, Canon UK, alongside the Canon UHD DIGISUPER 27 (UJ27) lens at this month's BVE 2017 trade show in London.
www.esbroadcast.com
(JP/LM)
Top Related Stories
Click here for the latest broadcast news stories.