Broadcast News
20/02/2017
TV3: Live Streaming With Dynamic Ad Insertion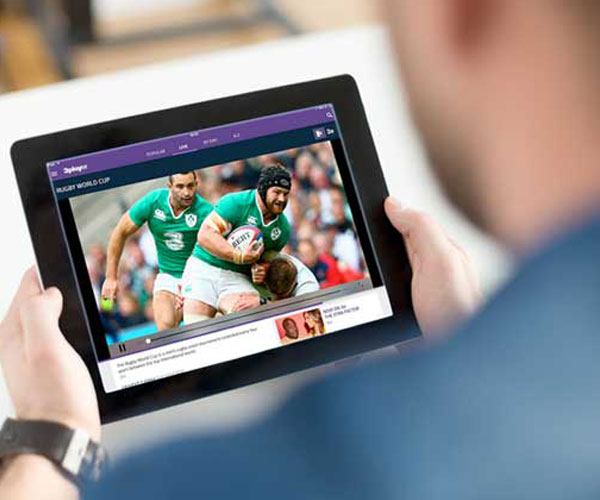 In March 2016, TV3 were presented with a Gold Award at Ireland's Media Awards for its Dynamic Ad Insertion project across live channels in its TV Everywhere platform, 3player. 



This case study looks at what made the project so special, and how Yospace's system helped TV3, and the wider broadcast industry, to break new ground in live television. 



Background

When TV3 won the exclusive rights to broadcast the Rugby World Cup 2015 in the Republic of Ireland, the commercial broadcaster was determined to do something special and pledged to stream all 48 matches live on its 3player TV Everywhere service.

The project promised to make available more live action than had ever previously been seen across a major event of this scale. And, of course, it posed huge questions in terms of technology and, most importantly, digital revenues. With viewers set to commit themselves to streaming sessions well over 80 minutes in length, a monetisation solution needed to be found that could be applied throughout the duration of a session, at scale, while maintaining the integrity of the live television experience.

Dynamic Advertisement Replacement

Yospace's platform allows ad breaks in the original broadcast feed to be replaced when viewed online, opening valuable new inventory for the broadcaster throughout the duration of a streaming session that it is otherwise unable to access.

Replacement advertisements are stitched into the stream on the server-side, meaning a single uninterrupted stream is delivered to the player on the user's platform or device that is free from common idiosyncrasies of client-side ad insertion solutions, such as buffering or added latency. Add to that a preciseness of ad stitching that is accurate to the frame, and the viewer is able to sit back and enjoy the game online without any discernable difference to what they would expect from traditional television.

Yospace's platform also allows one-to-one targeting so that the viewer not only enjoys the best rugby the world has to offer, but sees advertising that is relevant to their interests too. And, most importantly of all, this can be achieved at a scale to suit the demands of major event television in which the majority of viewers start streaming within five minutes of kick-off.

An End-to-End Solution

One of the reasons TV3 chose Yospace's platform was because of its versatility in operating within broadcast workflows that can vary hugely from one project to another. The system is comprised of a series of separate modules that can be used together to form a full end-to-end solution, and it is this complete solution that appealed to TV3.

Brendan McGillicuddy, Digital Development Manager at TV3, said: "We were very impressed with Yospace's ability to provide a full live streaming workflow, from encoding to delivery, whilst integrating effortlessly with our existing systems where required. Just as impressive was the turnaround time. From initial set-up to launch was less than a month which, considering the complexity of some of the integrations, was pretty stunning."

Implementation

Yospace's Live Stream Event Manager (LSEM) is employed at playout to encode the HLS stream for online delivery. Alongside it sits Yospace's Event Signalling And Management (ESAM) server which provides a link with TV3's automation system, Pebble Beach, and instructs the LSEM when to inject SCTE-35 ad markers into the stream – this piece of the implementation is crucial to ensuring frame-accurate ad insertions later in the workflow.

The next step is one of two points of contact with TV3's ad decisioning system, Ooyala Pulse (formerly Videoplaza). The LSEM polls Ooyala Pulse for new ad creative and, when one is detected, it automatically transcodes new assets to exactly match the Adaptive Bit-Rate (ABR) profile of the live HLS stream. This allows ads to be stitched on the server-side and delivered to the end device as a single stream, resulting in continuous playback, without buffering, for the viewer.

The second point of contact takes place when yospaceCDS, the cloud-based ad stitching system, detects a SCTE-35 ad marker in the stream. A VAST call is made to the ad decisioning engine, which return a set of ad IDs that instruct yospaceCDS which advertisements to stitch into the stream. This process takes place simultaneously, in real-time, for each individual user session, at a scale that supports national event television.

3player is accessible on web, Android and iOS platforms, with the aid of Yospace's Optional Application SDK to ensure reliable HLS playback where required. The SDK also allows advertisements to become clickable, opening up a browser window related to the content of each ad, which encourages user engagement and further drives view-through rates.

Results

"The 2015 Rugby World Cup was a very ambitious project," continued McGillicuddy, "but given the popularity of 3player and online streaming in general we felt we could offer broader coverage of the tournament than we would have considered before. Yospace played a huge role in the success of the project. Their end-to-end solution greatly simplified the amount of heavy lifting required in streaming all 48 matches, and it certainly had a big impact in terms of ad revenues. View-through rates surpassed 98% during the tournament, far higher than the network average. The result was that not only was new inventory opened up, but the value of that inventory was higher than we had previously seen before."

A significant outcome was that TV3 committed to a long-term agreement with Yospace following the tournament. All live programming on 3player is now delivered through Yospace's platform, including major event television that covers sports (Euro2016, UEFA Champions League) and entertainment (The X Factor).

Tim Sewell, CEO of Yospace, said: "We are delighted to have had the opportunity to work with such a forward-thinking broadcaster as TV3, and even happier that the relationship continues into the long-term. The World Cup project really demonstrated what's possible in the era of online broadcasting. Yospace is able to provide a service in which broadcasters, advertisers and viewers reap significant benefit."

Gold at the Media Awards

TV3's Dynamic Ad Insertion project was deemed such a success that it was entered in Ireland's Media Awards in the Best Sales Initiative category, where the broadcaster won the Gold Award.
"We are very pleased that TV3's hard work was rewarded at the Media Awards. The victory is well deserved and it is fantastic for Yospace, too, that our innovative technology has been recognised by the industry in such an emphatic way," said Tim Sewell, CEO, Yospace.

Top Related Stories
Click here for the latest broadcast news stories.