Broadcast News
06/01/2017
Wisycom Helps Serve Up New Cooking Series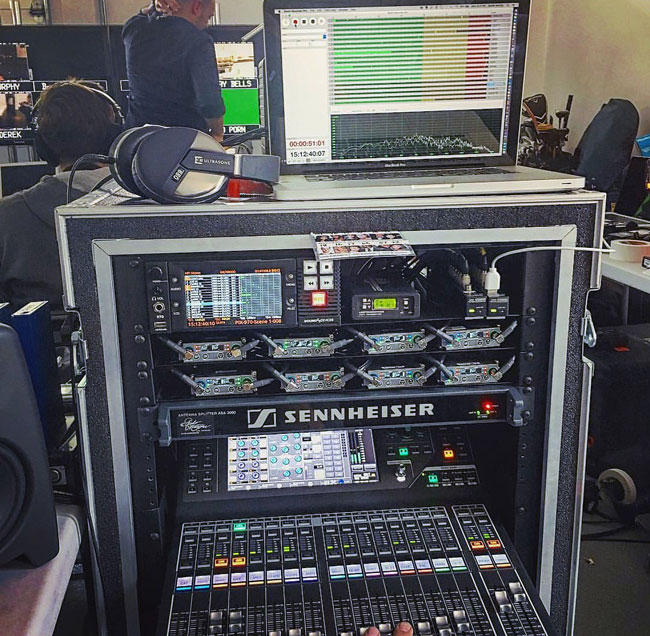 Wisycom's products have been chosen to help capture audio transmission on a new reality cooking series, My Kitchen Rules.
The show, which airs on Fox, places celebrity pairs against each other as they cook – and assess – each other's food in their own homes. For the series, Sound Supervisor Daniel S. McCoy, CAS, selected Wisycom's devices to capture audio transmission.
He explained: "My Kitchen Rules is filmed entirely on location and never on a stage or in a studio. We had to build a tremendous control room in each location, and in order to pull this off we turned to Gary Vahling and his company Audio Masterpiece, an official Wisycom Authorized Distributor, to help. I've been using Gary's expertise for many years in the rental business, but this is the first time I've used his services in the design business to help me build the ultimate RF cart for this job. We had a few weeks to design and he was able to help me coordinate all the necessary frequencies, in the ideal groups, for all the zip codes we were hitting. Thanks to my Wisycom devices, it is easy to move from one heavy RF location to another with no problems."
Referring to their 'Tone Cart V2', it is able to receive 18 or more Wisycom channels at the same time, but also provide routing with Dante. The Dante signal is sent to Aviom personal mixing systems that allow producers to select and monitor the talent audio of their choice.
McCoy added: "We were filming in the celebrities' kitchens and had to build an entire control room for eight cameras and the producers in their garages. The gear had to be super robust, reliable and accommodate a wide range of frequencies. That is why we used Wisycom. Wisycom enabled us to have up to 40 different channels that were usable at any given time all over Los Angeles – in the Malibu Mountains, the Hills, Downtown LA, the Valley – all very dense places with a ton of RF. That's pretty incredible."
For their transmitters, the team deployed 12 Wisycom MTP40S Wideband Bodypack Transmitters, four MTP41S UHF Pocket Transmitters and some MTH400 Wideband Handheld Transmitters with DPA capsules for the handheld microphones. Wisycom's SPL218 Antenna Combiner with Wisycom's CSA221 passive diversity splitter was also used.
The design also called for a switch to new IFBs. "Wisycom's new MPR50-IEM is not only a phenomenal scanning device that you can use to scan all kinds of groups already preprogrammed into your receivers, but you can also use it as a monitoring device to check mic placements," continued Gary Vahling. "At times, we would have up to 18 talent mics and we'd need to send an A2 miles down the road to the talents' trailers. As they're going through hair and makeup, the A2 would place the bodyworn mic and use the IFB to tune to the mic channel for that talent and listen to that microphone. When talent showed up on set, they were ready to go. This workflow was super effective and we were fully confident in the MPR50."
www.wisycom.com
(JP/LM)
Top Related Stories
Click here for the latest broadcast news stories.