Broadcast News
13/01/2015
Wisycom - Time To Accessorise?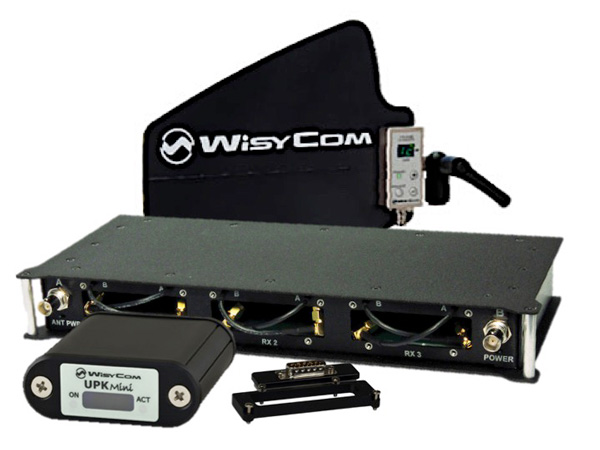 Whilst the features of the core product are clearly the key driver behind a purchasing decision it's the accessories that very often enable its true capability...
Wisycom radio microphones, from Midlands based RF experts Raycom Ltd, have seen a huge surge in popularity over the past year from those keen to exploit the huge 232Mhz tuning range and adaptable functionality. Already a firm favourite with major broadcasters, the new users have been, in the main, independent sound engineers who will be called upon to put their recently acquired kit to a wide variety of uses.
In order to react quickly it is vital to also have the flexibility afforded by a wide range of accessories. Wisycom has always considered this as an important part of the offering and already have in their range lots of useful extras to choose from.
There are a number of stand alone interchangeable rear panel options for their MCR42 receivers. The BPA42HPN offers two mini XLR-3pin male outputs providing two main analogue audio channels or two digital AES along with a locking mini jack 3.5mm stereo plug for headphones and a hirose for external power. The BPA42PTT alternatively includes a mini XLR-5pin for inclusion of a push to talk function. Where space is tight there is even the possibility of a factory fitted top output that can be used in conjunction with any of the rear panels. Power for the MCR42 is usually supplied via the hirose but where no permanent external source is readily available the BCA42 battery power supply module is invaluable.
It's likely the receiver will need to be either located on the camera hot shoe or in a slot, neat solutions are provided for both. The MCRMNT is perfect for camera mounting and includes a clever top shroud to allow continued use of the hot shoe whilst the range of SLK slot in kits offer a top and bottom plate which are specifically designed for use with a number of different cameras including Sony, Panasonic, Ikegami, Grass Valley and Phillips. There is even a kit to facilitate perfect integration with the innovative PSC RF six pack, a carrier that is capable of distributing power and diversity RF for up to three MCR42 two channel receivers.
Wisycom have not left there transmitters out of the add on wish list. There are a number of interesting power options including a battery eliminator to completely take away the worry of battery changes, however unlikely they are due to Wisycoms miserly power usage and therefore long battery life. When using belt pack transmitters there is also a phantom power device used to provide power and connection to wired microphones, very often useful with shotguns.
Anyone fortunate enough to have ordered a new luxury car can tell you extras will bump up the price. The same could be said about high quality wireless microphones, there is an important difference though. In the case of the mics accessories are very often the key to increased income as their functions and flexibility enable the engineer to accept a wider range of projects safe in the knowledge they will be able to get the job done.
www.raycom.co.uk
(IT/JP)
Top Related Stories
Click here for the latest broadcast news stories.