Broadcast News
11/05/2016
BAMFSOUND Selects Wisycom Solutions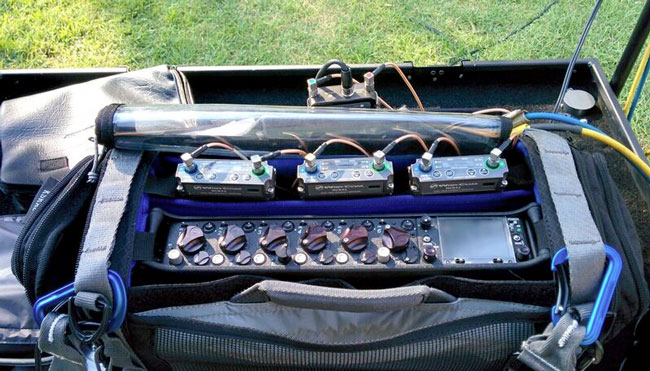 Production sound mixing duo BAMFSOUND has selected a range of Wisycom solutions for its various projects throughout North America.
In order to capture high quality audio for productions that can present various RF communication challenges, the duo of Matt Brodnick and Ferdinand Almalvez use four Wisycom MCR42 dual channel ENG receivers, eight MTP40S transmitters, and a MTB40s plug-on transmitter, between two sound bag kits.
"We use Wisycom ENG products for traveling projects because they're the most flexible for frequency compatibility, wireless range and sound quality," said Brodnick. "We have 170 MHz of bandwidth at our disposal, meaning more frequency choices across major cities from coast to coast. Wisycom devices allow us to tune through a broader frequency range, and future-proof our investment in the steadily decreasing UHF bandwidth.
"The transmitters have noise cancellation, an integrated hardware limiter and enough amplification for demanding mics. The MCR42s have 24-bit AES digital output and the IR sync feature saves time, allowing us to pair and configure multiple transmitters quickly. The MTP40S supports up to 5.5V mic input, delivering the most performance out of power demanding mics such as DPA's 4061 lavaliers. It also has a 10mW output mode, which is the required legal limit in some countries making Wisycom our worldwide solution."
Their 'core location audio kit', includes multiple Wisycom MCR42 receivers plugged into a mixer via AES3 digital inputs, MTP40S transmitters with DPA 4061 lavalier mics, a selection of various boom mics, such as DPA, IFBs for producers and cameras and timecode sync boxes.
"Wisycom equipment enables us to worry less about the technical issues revolving around wireless audio," admitted Brodnick. "We are able to focus more on actually mixing and working with other departments. The products have worked well for us all over the country, even in RF-heavy environments."
www.wisycom.com
(JP/LM)
Top Related Stories
Click here for the latest broadcast news stories.