Broadcast News
08/12/2016
Remote Production For Euro 2016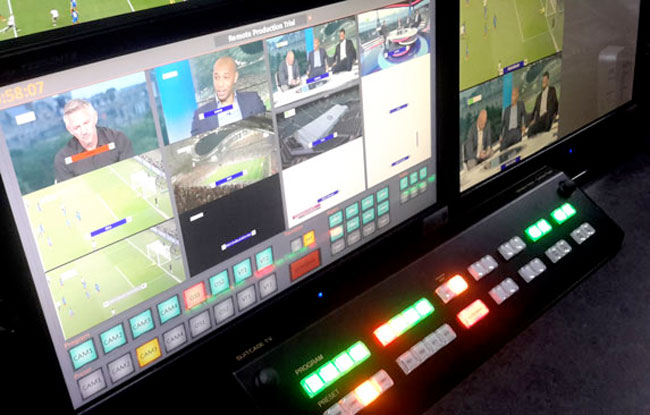 In early 2016, Suitcase TV and BBC Sport began discussions about remote production architectures that could be useful for broadcast and online activities now, and in the near future, explains Ed Calverley, vice president of products, Suitcase TV.
The premise was to explore differences, and therefore options to address, evolving connectivity requirements between an event site and a broadcast centre. To achieve this, a trial was done, centred on the Euro 2016 Championship in which Suitcase TV focussed on building an architecture that required minimal connectivity, the aim being that audio and video signal mixing at an event site would be controlled remotely using a single contribution feed to the production centre.
The idea was to investigate connectivity options for remote gallery operation, which in an IP production world could reduce the need for operational resources, and to explore the viability of an end-to-end IP production workflow, which could minimise – possibly even eliminate – the need for baseband (SDI) operations.
We built a system around our modular Iphrame, IP-based broadcast framework. Its architecture can link different video and audio processing functions to multiple physical or virtual machines that are connected over IP.
As part of the technology deployed, we also used Suitcase TV's TimeLock functionality, which timestamps signals against PTP reference clocks. This enables frame accurate switching to be controlled with automatic compensation for latency, which is an area that had previously been problematic for remote architectures.
What Iphrame does is enable a control interface to be positioned wherever there is a suitable network connection. The client is fed with timestamped proxy feeds of all sources, which are synchronised and presented 'as-live'. Uncompressed video and audio for each source is buffered at the event site, which enables a full-resolution, frame-accurate mix to be performed almost instantaneously, thus ensuring the accuracy of the output.
One of the first insights we gained from the trial was that a simple 'remote mixing' model would not work. Mixing an event remotely from a production centre required the VT and graphics operations to also be located at the production centre. We therefore modified our system design to enable sources for the virtual mixer from the site of the championship in Paris and the production centre in Salford to be seen as one. What I mean by that is that multiple Paris sources were mixed onsite and the feed was sent downstream to Salford as a single contribution.
One of the keys to the ultimate success of the trial was that we enabled operators to treat the entire production system as if it were a single mixer, with all sources from Paris and Salford being switched from the same UI. Monitoring and control interfaces in Iphrame are built around Iphrame's Surface UI, which is a Microsoft Windows-based application that uses configurable layouts built from multiple components (e.g. video displays and buttons). Surface UI can create customised layouts to suit any operational requirement, or provide simple multi-viewer style displays, which is what we did for the trial.
In short, the Surface UI design focussed on what the users actually needed rather than overcomplicate things with mixer functions that are rarely, if ever used. That's the beauty of doing it this way. The UI can always be tailored exactly for the requirements at hand and not be overpopulated with extraneous distractions.
What was most important to us, and the user, was that the upstream and downstream mixers were transparent to the user, and we achieved that. In practice, the user experience was exactly as if all sources were being controlled by a single mixer. That was, in contemporary parlance, huge.
Using Iphrame as a distributed production platform also had the added benefit of delivering additional cost savings by substantially reducing the need for production staff, and expensive fibre links.
Although the exercise proved to be a prime example of confirming that remote production over IP is viable, but it also, perhaps ironically, confirmed that 'remote production' – in and of itself – probably isn't the best description of what was achieved. 'Distributed production' is, I think, a far more accurate description because IP is
not
an either/or proposition. IP is a helpful tool, a
compromise
that offers greater options for audio and video production at a lower cost. It's that simple.
No matter what the approach, it's now very clear to us that any solution for live remote switching/mixing has to be paired with an ability to switch/mix with signals in the production centre. Iphrame's single, unified user interface, which displayed remote and local sources on the same UI, meant that the operator had no need to deal with anything other than what was right in front of him.
That means, less complicated, more efficient, and less prone to costly errors.
It works for me. It will for you, too.
www.suitcasetv.com
(JP/LM)
Top Related Stories
Click here for the latest broadcast news stories.