Broadcast News
30/11/2016
PHABRIX Reports Successful Inter BEE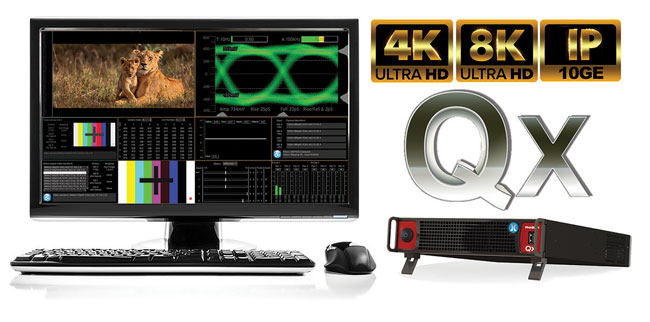 At Inter BEE 2016, PHABRIX established itself as a key provider of UHDTV test and measurement instrumentation for the broadcast manufacturing industry.
Over the past year, the company has increased its presence in global markets with the introduction of its new PHABRIX Qx designed for UHDTV 4K format testing. At Inter BEE earlier this month, PHABRIX added further enhancements to the new platform, plus extended its dealer network in support of the interest from the exhibition.
The Qx has been created using the latest FPGA and driver components and, in many cases, this has required PHABRIX to work with 'engineering silicon'. As with all innovative products, there is usually a 'silver bullet' which makes customers wish to purchase and in the case of the new PHABRIX Qx the company has leveraged its experience with physical layer analysis into the instrument. Harnessing this experience has enabled the company to innovate the Qx toolset to the point where it can provide real-time measurements for eye and jitter to SMPTE specifications at 12Gbps – a necessary pre-requisite for testing new 4K products. This ability is currently unique to the Qx.
Along with eye amplitude measurement, the instrument offers automated 5 decade jitter measurements, rise time and fall time parameters along with overshoot and undershoot. The company has rightfully sought and been granted a trademark for this innovation and RTE – Real Time Eye – is available on the Qx with multi format support to 12G-SDI as standard. A version of the Qx without eye and jitter is also available for less demanding applications.
With the new challenge being 12G-SDI, the Qx supports up to 48 Gbps payloads across quad 12Gbps inputs and quad 12G-SDI outputs. Closed loop testing is possible as the Qx provides both generator and analyzer toolsets operating simultaneously. Single, dual and quad link standards are supported for SDI running at HD, 3G, 6G and 12Gbps. Payloads up to 12Gbps are provided as standard with options for payloads up to 48Gbps being made available in the future.
The PHABRIX Qx has a sophisticated timing instrument, SMPTE 352 packet display and a range of generator patterns to enable quick and easy confirmation of the SMPTE standard under test. Further testing using SDI data view, ancillary and CRC error displays along with logging provides an engineer with a single instrument for compliance and verification testing.
PHABRIX has announced that as a 'hybrid' platform, the PHABRIX Qx will also be supporting IP connectivity via its optional dual 10G Ethernet SFP+ ports. Optional SMPTE ST 2022-6 I/O and support for other standards as outlined in the AIMS roadmap will be available in the new year. Network performance analysis tools will also be available.
Further establishing its market penetration in the region, PHABRIX has added more of its rackmount Rx2000 series to a major DTH operator in Malaysia making it the largest single installed base in the world for PHABRIX's Rx QC T&M rasterizer range. Working alongside Ideal Systems as a system integrator, the Rx2000 offers two integral screens for local control and individual instrument viewing along with a useful rasterizer output able to display multiple instruments on a 1920 x 1080 HDMI or SDI monitor. Usefully the Rx2000 also has two high range speakers for stereo audio confirmation built into its aluminium frame. As a multiple module solution, the Rx can be configured to accept up to 8 inputs with 4 inputs displaying instrumentation simultaneously. Providing both audio, video and data instruments as standard, the Rx offers a cost effective option. Dolby 5.1 and 7.1 configurations are optionally supported along with a pre-set mechanism. The success of the Rx has been its unrivalled ability to configure up to 99 pre-sets each able to display up to 16 instruments simultaneously.
The company's hand-held product range also continues to sell well in the region. Its 3G-SDI combined generator, analyser and monitor, the SxE, with eye/jitter toolset is still the market leader. The TAG, released last year, integrates analogue audio and video support with SDI, AES, and SFP based testing addressing both optical SDI and HDMI applications including EDID analysis.
Phil Adams, PHABRIX's Managing Director in attendance, said: "We displayed a prototype of the Qx at Inter BEE last year and knew instantly that the technology we had developed would be an important T&M instrument in this cutting edge sector where 4K is well understood with further future interest in 8K for the Japanese 2020 Olympics. This year we were able to introduce the Qx to our new distributor channel and they in turn were able to demonstrate the product to their important manufacturing client base. I have to say it was a very successful show."
www.phabrix.com
(JP/LM)
Top Related Stories
Click here for the latest broadcast news stories.