Broadcast News
12/06/2015
PHABRIX Qx For UHDTV1 And UHDTV2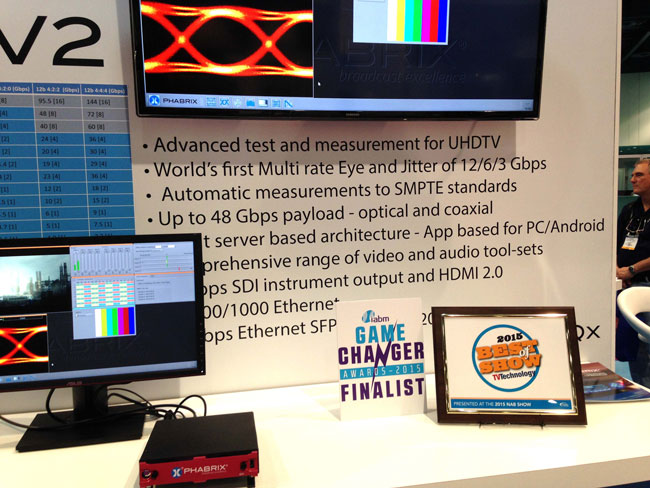 As broadcast manufacturers begin to source a solution for 4K and 8K testing they are looking toward PHABRIX to provide a state of the art solution for their needs based on a real world solution.
Key to this is PHABRIX's development from the start for 12Gbps and with it a real time multi rate eye and jitter toolset. Why is this important? Anyone considering testing the new 4K and 8K formats will need real time response from the eye pattern, anything less than real time means equipment under test is subject to delay – so one could question the validity of any test without real time multi rate eye pattern feedback.
Engineers need to know that even the response to noise levels created by touching cables used under test will be seen in real time on the display – and this is the key development offered by PHABRIX compared to other offerings and it's a difference which has seen many manufactures contacting PHABRIX for its solution due August this year.
At NAB, the PHABRIX Qx was launched to much acclaim winning a 'best of show' award and was a finalist in the prestigious IABM game changer awards. So what makes this new introduction from PHABIX so special?
The story begins with PHABRIX taking advantage of silicon released early in 2015 however the engineers in PHABRIX's R&D were able to obtain even earlier development chips due to the requirements in the industry to test and measure video signals for UHDTV1 and UHDTV2. This was key to why the Qx is seen to be so far ahead of other solutions, it uniquely at this time has been developed using the latest technologies. Part of this includes using Macom components which also explains why the Qx is on tour in Japan at the time of this article proving the technologies available for 4K and 8K and showing the 12Gbps eye.
You'd be surprised by the size of the PHABRIX Qx. Although contained in a small half rack 1U chassis, don't be mistaken by the power in what PHABRIX have heralded as their new technological platform. With four 12 Gbps inputs, four 12Gbps outputs and format gearing, the Qx is able to support 48Gbps with a media back bone inside able to process the 96 Gbps required for UHDTV2.
Focussed on the needs for broadcast manufacturers, the PHABRIX Qx supports both video and audio formats up to 128 channels. Interfaces can be chosen from BNC to SFP offering 10 Gbps SDI and optical support. Importantly, the Qx also supports SMPTE 2022 - 6 over 10BbE as the industry moves toward IP connected infrastructures.
Instrumentation on the Qx includes its unique 12Gbps eye and jitter toolset – this high value identification analytical tool more akin to the features found on a high end oscilloscope. With VANC/ANC display presented as SMPTE colour coding, the Qx also has a sophisticated timing window for formats that require four independent 3G inputs.
A full SMPTE standards generator is also available on the platform allowing both generation and analysis from the same instrument as found with most of the PHABRIX range.
The Qx however has some underlying technologies that engineers will find indispensable. Due to the client server access of the technology, UHDTV developers can write their own specific applications to drive this powerful workhorse allowing bespoke instrumentation with lightening presentation of data from connected remote stations be it PC or tablet. This allows the engineer to design his/her own unique interface, the flexibility of the Qx is built for such scenarios.
Support for HDR (High Dynamic Range), WCG (Wide Colour Gamut), HFR (High Frame Rate) and the advanced object based audio formats will be provided as the standards develop.
Phil Adams, Managing Director at PHABRIX, commented: "What the PHABRIX Qx represents is a 'world's first' real time 12G-SDI physical layer analysis (eye and jitter) tool-set with automatic SMPTE compliance measurements providing comprehensive testing for both UHDTV1 and UHDTV2 infrastructures. It is a revolutionary piece of technology and although not available until August this year, I have spoken with many manufacturers who understand why waiting for a best in class solution is important as these new formats develop. We have taken the first beta units on the road at Broadcast Asia this month and in Japan to create even more exposure of our technology in advance of our first production run."
This article is also available to read at BFV
online
.
(JP)
Top Related Stories
Click here for the latest broadcast news stories.