Broadcast News
01/11/2016
Pinewood MBS Lighting Extends Client List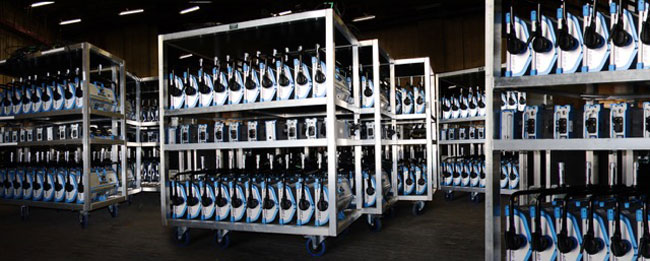 Pinewood MBS Lighting extends client list as world's largest stock of SkyPanels are prepared for their next adventure.

Brought in as part of the Pinewood MBS Lighting ongoing investment across an array of new equipment, the company's sizable collection of super bright ARRI SkyPanel LED softlights recently made a brief return to their Pinewood base, only to be prepped ready for immediate despatch.

Proven as a popular choice with both cinematographers and crew, PMBS have over the past few months provided the low energy panels to an impressive roster of clients, including: Greig Fraser ASC and Gaffers Perry Evans/Jamie Mills on Rogue One, Steve Yedlin ASC and Gaffer David Smith, on Episode VIII, Ben Seresin ASC, BSC and gaffer Pat Sweeney on The Mummy, Paul Cameron ASC and gaffer Mark Clayton on The Commuter, Seamus McGarvey BSC and gaffer Lee Walters on Life.

As rental specialists, the PMBS team are well versed in the importance of preparation and maintenance. To cope with demand the company has taken steps to introduce swift, efficient turnaround protocols for what has grown to be the world's largest stock of SkyPanels, including the creation of custom designed racking systems to assist with the rapid deployment, protection and portability of the units. The company has also invested heavily in a variety of compatible accessories to further extend the illumination capabilities of the fixtures.

Commenting on the SkyPanels, PMBS Managing Director, Darren Smith said: "Our investment in these softlights is part of an overall programme to introduce viable, low energy alternatives throughout our product range. The list of productions that have embraced this technology speaks for itself and we're committed to supporting our clients by investing further to grow the selection of energy efficient solutions we make available to them."


Top Related Stories
Click here for the latest broadcast news stories.