Broadcast News
23/08/2016
Blackmagic's Micro Cinema Cameras Used For Ben-Hur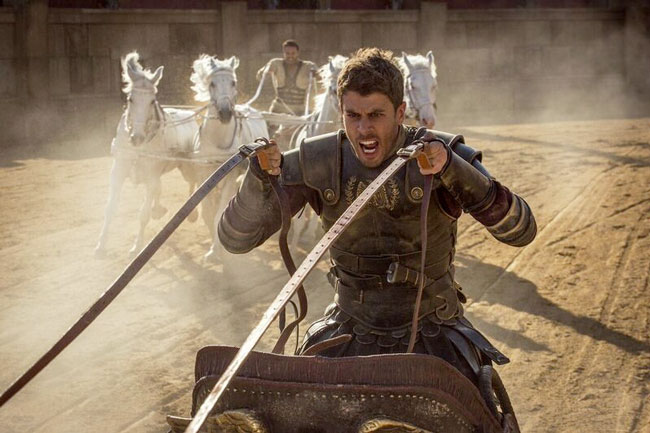 A number of Blackmagic Design's Micro Cinema Cameras have been used to capture the opening sequence of MGM and Paramount Pictures' recent remake of Ben-Hur.
The opening action sequence of the movie begins with a wide CG shot of the future Circus Tiberius, the stadium where the chariot races take place. The scene then fades into a skeleton of the future Circus – eight years before it is built – with two riders on horseback. The two riders are Judah and Messala, racing their horses in a competition around dangerous curves and pushing each other into the trees and rocks. The scene showcases the friendship between the two young men and sets the stage for what is to come.
As the two actors playing Judah and Messala were good at horseback riding, director Timur Bekmambetov used them for much of the opening sequence. According to 2nd Unit DP Sergei Kozlov, Bekmambetov wanted to shoot as close as possible to their faces in order to capture the emotion and intensity as it plays out during the scene.
"That's where the idea of using small cameras came from," explained Kozlov. "They needed to be small enough for the stunt person riding on a horse next to the actors to hold in his hands, or so we could mount it on small stabilizing stick and MōVI rig. The stunt person could then get great shots of the actors' faces as they are riding.
"For an even wilder style, we put a wider angle Rokinon 7.5mm MFT lens on the Micro Cinema Camera and gave it to the stunt rider, and he shot some useful footage with his stretched arm, just holding the camera by itself and pointing it at the actors' faces. The Micro Cinema Camera is very light and compact, which is perfect for rigging and mounting in some unpredictable places."
In order to capture the different angles, Kozlov and his team also rigged the Micro Cinema Camera under and on the horse, hooking it on straps dangling underneath the horse as well as on the sides of the saddle.
Kozlov said: "In addition to challenging and new angles, Timur also wanted to capture these action shots with cinema quality, so I was trying to avoid that 'video-y' wide angle feeling. The opening sequence is a day scene, and we shot everything in bright sunlight. RAW was important to get maximum range and keep all highlights in the sky and clouds looking good. The Blackmagic Micro Cinema Cameras gave us the advantage of great dynamic range, RAW recording and of using better MFT lenses."
For these shots, the stunt rider held a MōVI rig with a Micro Cinema Camera and was supported by an Easyrig, while Kozlov operated the camera from the ground holding a MIMIC control system with a monitor in his hands to maintain the handheld style.
Timur Bekmambetov directed Ben-Hur from a screenplay by Keith Clarke and John Ridley. Sean Daniel, Joni Levin, and Duncan Henderson served as producers, with Mark Burnett, Roma Downey, Keith Clarke, John Ridley, and Jason F. Brown serving as executive producers.
Image: Toby Kebbell plays Messala Severus and Jack Huston plays Judah Ben-Hur in Ben-Hur from Metro-Goldwyn-Mayer Pictures and Paramount Pictures. Photo credit: Philippe Antonello© 2016 Paramount Pictures and Metro-Goldwyn-Mayer Pictures Inc. All Rights Reserved.
www.blackmagicdesign.com
(JP)
Top Related Stories
Click here for the latest broadcast news stories.