Broadcast News
27/11/2013
Panasonic Launches New Micro Cameras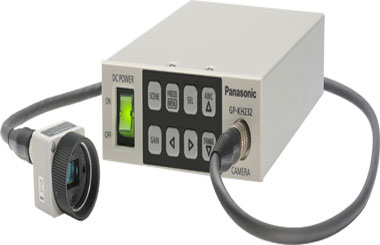 Panasonic's Industrial Medical Vision division has announced the launch of the 1MOS GP-KH232E and 3MOS GP-US932X micro cameras.
The micro camera series are suitable for many applications in the medical environment (hospitals, microscopy, endoscopy and dental practices) as well as live science (research facilities, laboratories). Panasonic has created a flexible range of remote head cameras including the 1MOS GP-KH232E and the 3MOS GP-US932X, which can be purchased in full or as OEM components. Therefore, the customers can build their own medical camera solutions.
The GP-KH232E camera series, consisting of the Remote Head and the Camera Control Unit, is ultra compact, yet does not compromise on picture quality in terms of resolution, sensitivity and colour reproduction. It has a single chip CMOS approach for high image quality and new Digital Signal Processing, resulting in a very small digital HD camera head with standard C-Mount type lens interface. It supports all common HD & SD video formats from 1080p/50 (59,94)Hz to 576i/480i and achieves a horizontal resolution of 900 TV Lines, with a required illumination of 2000lx at F5.6.
The GP-US932X has amazing HD quality in micro format for long distance with one of the smallest remote 3-chip camera head, digitised video signal and the ability to use all common video formats. Outstanding performance thanks to improved sensors, a stunning 1000 TV Lines resolution and increased light sensitivity of 2000lx at F12 (Binning = ON). Other functions like image rotation and mirroring options, three pre-sets including the colour temperatures, the freeze picture, 2.5x electronic zoom, 12-axis colour matrix and frequency-depending detail enhancement makes this camera a highly versatile product.
Full HD Module Camera Line Up
Panasonic has created a flexible range of new block module zoom cameras including the SD modules GP-MS424 and GP-MS436 as well as HD modules GP-MH310, GP-MH322, GP-MH326 and GP-MH330, which range in their optical zoom ratio from 10x to 30x.
The new range of single chip Full-HD Module cameras brings outstanding HD resolution and superior colour reproduction at the right size for a variety of professional video applications in the medical environment. They have outstanding performance and deliver a native resolution of up to 1080p, plus feature multi-format capability in compact and light weight camera modules. Whilst latency time is extremely low compared to similar cameras in this category, the modules also offer automated monitoring of scenes with high image quality.
Main features
• Low latency time for real-time watching
• HD video up to 1080p offering analogue digital outputs
• Still picture function on separate USB / UVC interface (GP-MH310 only)
• Local engineering support for OEM integration
• Supplementary interface boards for e.g. HDSDI output
business.panasonic.co.uk/professional-camera/micro-cameras
(CD)
Top Related Stories
Click here for the latest broadcast news stories.