Broadcast News
16/08/2016
Goldcrest Post Production Selects Avid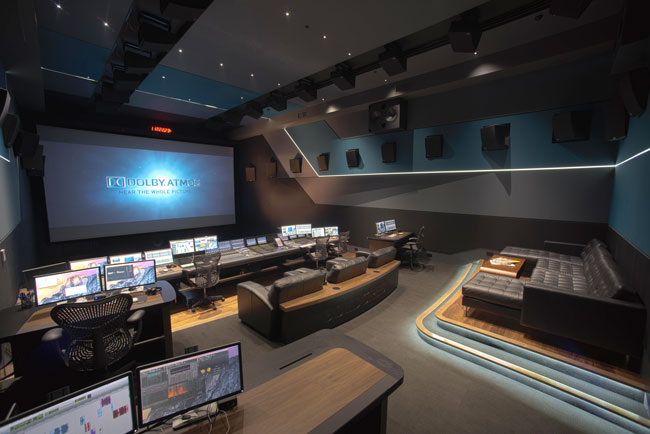 For its new Dean Street Theatre 1, Goldcrest Post Production has installed an Avid Pro Tools | S6 modular control surface. The theatre is a purpose-built Dolby Atmos mixing theatre. The post-production house in Soho is now home to three Pro Tools | S6 control surfaces that were supplied by Scrub; a division of HHB Communications.
The Dean Street Theatre 1 control surface is a 32-fader M40 configuration, integrated with an AMS Neve DFC3D digital mixing console. Custom furniture enables the number of Pro Tools | S6 or DFC3D modules to be increased or reduced depending on the mixer's needs.
Goldcrest transitioned to Pro Tools | S6 from a small number of 'in the box' Avid ICON D-Control mixing suites.
"Goldcrest are very a forward-looking post-production house," said John Johnson, CTO, HHB. "People mix 'in the box' now more than ever and with Pro Tools | S6 Goldcrest have tactile control of automation and plug-ins, as well as a huge amount of visual feedback, which really speeds up the mixing process."
Each of five Avid Pro Tools rigs has a DAD DX32 audio interface attached, which has Dante and MADI out. The MADI can be routed to the DFC for conventional mixing or to a sixth rig with a DAD AX32 converter system for 'in the box' mixing. A custom BSS monitoring solution can be accessed from either the AX32 or DFC.
"We can also instantly switch between the increasingly varied mixing formats that are now required: 5.1, 7.1, Dolby Atmos and most recently DTS:X," explained Simon Ray, Head of Engineering, Goldcrest Post Production. "The DAD interfaces give us so many options as to how we route the audio around the theatre and we are only just beginning to realise the potential of DANTE. The modular nature of the S6 means we can configure a setup to a mixer's specific requirements."
www.hhb.co.uk
(JP/LM)
Top Related Stories
Click here for the latest broadcast news stories.