Broadcast News
01/08/2016
2wcom To Focus On AoIP At IBC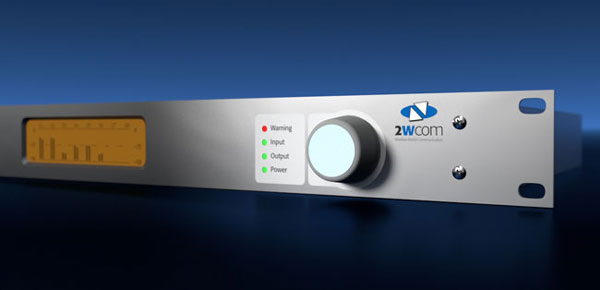 At IBC, 2wcom has said it will demonstrate AoIP and Satellite Integration.
Included in the company's display will be the MM01; with new features, it now supports Ravenna, Livewire and AES-67. The MM01 is suitable for studio-to-transmitter link applications, studio-to-studio transmissions, broadcast and post production purposes. It is compatible with Session Description Protocol (SDP), Session Initiation Protocol (SIP), Session Announcement Protocol (SAP), Real Time Streaming Protocol (RTSP) and Precision Time Protocol (PTPv2).
The MM01 is able to handle a sampling rate up to 192 kHz and provides a delayed firmware update enabling users to upload a firmware file and activate it later on demand. This includes GPIO forwarding, AAC and Enhanced aptX compatibility, an FM tuner option for FM transmission monitoring and back up, advanced VLAN configuration and an Icecast server.
A 19" 1HE unit prepared for a rack installation, the MM01 comes with display, jogwheel and remote control audio inputs and outputs, serial inputs and outputs, GPIOs, redundant IP interfaces and dual redundant power supplies.
Also on show will be 2wcom's FlexDSR state-of-the art STL technology. This allows operators to receive audio streams via satellite or IP, depending on their requirements and the best quality source available. Suited for dual-stream applications, FlexDSR is a satellite receiver that also serves as a complete AoIP system. The solution, ideal for mixed environments, automatically detects and switches to the best quality source, whether satellite or IP.
The system combines transport technologies and facilitates the reception of transport streams or elementary audio streams via IP with Pro-MPEG FEC and DualStreaming protection against IP packet losses. FlexDSR can receive and decode audio from a wide range of sources. It is capable of transporting streams via satellite (DVB-S/S2), ASI input and IP, and can also manage elementary audio streams and Icecast streams via IP. Able to support audio codecs such as MPEG 1 Layer 2, MP3, AAC LC, HE-AACv1 and HE-AACv2 and Enhanced aptX, FlexDSR also offers quality uncompressed audio PCM at 48kHz/24bits.
The A30 will feature at IBC2016 and is the company's latest FM monitoring device. A successor to the A20, it is equipped with two professional FM tuners able to be used independently. Operators are able to use the two tuners to simultaneously monitor two FM stations day and night, but can also let the second tuner monitor up to 30 broadcasting stations using its scan mode in round robin fashion. When in scan mode, the system lets operators configure station order and measurement time via the user-friendly Web interface.
The A30 features an audio input (which can be monitored), one MPX input (which can be monitored in parallel to the two tuner signals), two audio and MPX outputs and two MP3 streams, allowing to monitor the audio from the distance.
In addition, the A30 can work as a backup Rebroadcast receiver, monitoring the external input signal and in the case of signal degradation, switch the output source to one of the internal FM tuners. If the signal degradation is no longer existent, the A30 automatically shifts back to the external input source.
The new MM08E is a professional eight-stereo channel AoIP encoder designed for broadcast, contribution, distribution, in-house streaming, studio-to-transmitter links and studio-to-studio links. Compatible to AES67, Ravenna, Livewire and EBU Tech 3326 supporting all standard AoIP protocols like Session Description Protocol (SDP), Session Initiation Protocol (SIP), Session Announcement Protocol (SAP), Real-Time Streaming Protocol (RTSP), Real-Time Transport Protocol (RTP), RealTime Control Protocol (RTCP) and Precision Time Protocol (PTPv2), the system works with various audio coding algorithms (Eapt-X, AAC and derivate, MPEG I/II Layer 2/3, PCM). The support of multiple network interfaces covers a wide range of applications. Multiple audio streams can be generated independently within one 19-inch 1HE unit ready for rack installation with display, jog wheel, remote control, audio inputs, serial inputs, GPIOs, redundant IP interfaces and dual redundant power supplies.
Then there's the new FMC01; a compact codec, encoder and decoder for high-quality FM MPX distribution via IP or E1 (G.703). It offers operational advantages and infrastructure savings, plus it is as all-in-one solution for FM MPX Distribution. The FMC01 enables the broadcaster to achieve savings by simplifying the delivery infrastructure. It is no longer necessary to generate the MPX signal at the transmitter site, or to use a RDS encoder and stereo generator at each station. The FMC01 also ensures very low installation, service and maintenance costs with nearly no configuration of the device required. It also allows broadcasters to create a signal distribution system that delivers the same high quality signal from each transmitter site.
Key FMC01 features include Reed Solomon FEC to minimize bit errors; quality parameters via SNMP v2c and relay switching; and FM demodulation with L+R XLR, headphone outputs and RDS decoding.
Werner Drews, Managing Director, 2wcom, said: "At IBC we are focusing our attention on 2wcom's new technology that takes transport one step further by letting broadcasters easily integrate AoIP and satellite technologies and switch from one stream to another, depending on their immediate needs."
2wcom.com
(MH/LM)
Top Related Stories
Click here for the latest broadcast news stories.