Broadcast News
29/07/2016
Liverpool Welcomes Record-Breaking Year For Productions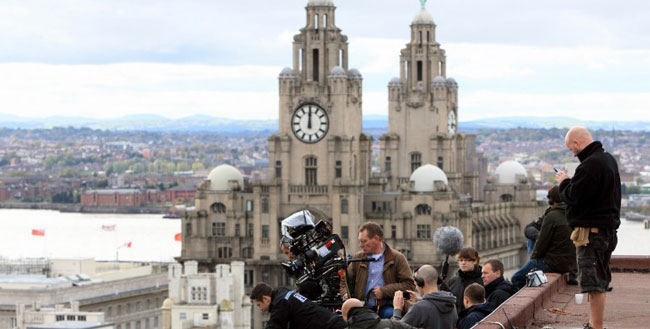 A record number of film and TV productions were made on location in Liverpool last year, it has been revealed.
In a report, which will be sent before the Culture and Tourism Select Committee next month, shows that throughout 2015, a total of 257 film and TV projects came to Liverpool. This resulted in 1,067 filming days. It also contributed some £11.5 million to the local economy. Overall, it is a 50% increase on the previous year, with the main increase being the number of days of filming per project.
In 2015, one of the major productions was Fantastic Beasts and Where to Find Them – a Harry Potter prequel, written by J.K Rowling and starring Eddie Redmayne. Liverpool was the only non-studio location used, and scenes were filmed inside St George's Hall and the Cunard Building. During filming, more than 1,000 cast and crew stayed in 10 city centre hotels, resulting in over 5,000 bed nights and generating more than £1.5million directly into the local economy.
Other production highlights included:
• Rocky spin-off, Golden Globe winning and Oscar-nominated 'Creed' saw filming take place in Goodison Park
• 'Florence Foster Jenkins' starring Meryl Streep and Hugh Grant turned Water Street in to 1920s New York
• 'Peaky Blinders' returned to the city for its third season filming at New Brighton, Croxteth Hall and the Welsh Streets
• Stephen Poliakoff's BBC 2 drama 'Close To The Enemy' will air later this year, and saw stars Freddie Highmore and Angela Bassett filming in and around the city
• Acclaimed Sky1 drama 'The Five', which was written by Harlan Coben, shot scenes for all 10 episodes at locations across Merseyside, including Old Hall Street, Crosby Beach and Lark Lane
Liverpool Film Office predicts that 2016/17 will also be another successful year for the city. To date, 147 productions have been filmed, resulting in 312 film days.
More money is now being generated by the Film Office thanks to the introduction of the Income and Commercialisation Strategy. For the first time, the collection of fees was centralised which made using council services much easier and more efficient for production companies when booking road closures, parking in the city, street cleansing and filming in council-owned properties such as the Cunard Building, St George's Hall and the Town Hall. This resulted in a direct income for the council of £468,619. For the first time, the city council received an economic impact directly from filming activity.
There are also future plans to introduce a film permit based on best practice of the London Boroughs which facilitate filming. It is predicted this will generate an additional £10,000 of revenue. Proposals to develop new guidelines and work with all residents around the high volumes of filming in the Georgian Quarter which includes Hope Street, Falkner Square and Rodney Street, have also been suggested, as has to work more collaboratively with both Wirral and Sefton Councils to exploit opportunities which would benefit the whole region.
Joe Anderson, Mayor of Liverpool, said: "Camera crews are getting to be a regular sight on our streets as we are one of the most filmed cities outside of London. Liverpool has a huge amount to offer production companies – amazing and diverse locations and a dedicated Film Office that is overflowing with local knowledge and a can-do attitude which sees directors and producers return to the city time and time again.
"The development of a £25million film studio on Edge Lane is testament to the creative boom what we are currently experiencing – the demand is there for us to facilitate more filming in the city, so this is perfectly timed. And more than ever, it's essential that we look to our city region neighbours and see how our success can be shared with them, and working together in the future is key to this. It's fantastic news that the momentum is continuing and filming days are already at a high this year – so we'll be seeing a lot more of Liverpool on the big and small screen."
Lynn Saunders, Film Office Manager, added: "A huge amount of work goes in to attracting production companies to the city, and then working with them in the run up to, during and post filming to make sure all aspects run as smoothly as possible and they have a positive experience of the city. The number of TV programmes, adverts and films we are securing here is testament to our commitment to making sure Liverpool is at the forefront of Director's minds when they are considering where to film.
"It's important we don't rest on our laurels though and we are looking at doing things differently in the future which will improve the way we work and generate more funding and exposure for Merseyside as a whole."
www.liverpoolfilmoffice.tv
Top Related Stories
Click here for the latest broadcast news stories.